Do you like any of the groups and their songs from Produce 101 Japan?
6
I like the songs and maybe even preffer them over other JPop (1)

17%

They are quit good (1)

17%

I could maybe get into some of the groups (1)

17%

It's OK, but I like what Produce Korea did more (2)

33%

Prodce Japan and Produce Korea suck ass (1)

17%
Produce 101 Japan allready posted the introductions to the participants of the second season in February to Youtube (this time even with English subtitles) and the first episode will air in April and I thought wouldn't it be fun to compare the Japanese and the Korean one with eachother?
I will first of all begin with the show-differences
As you may know most girls and boys on the show in Korea used to be trainees and a few of them were allready an idol before. This made the viewers curious for when an participant droped out but you allready knew he or she will debut probably someday or be back in their old group. Sadly many of the trainees didn't debuted or their groups even disbanded and you most of the time only got to hear of a small number of the trainees years later, but most went like poof and gone and you never heard of them again after a while. A few later on joined project groups as for example JBJ but these groups all disbanded within the first few months they were made and not even the winner groups of each season lasted for long. The first winner group only existed for about a year and most fans only found them after they allready disbanded. Many of the members of the allready disbanded winner groups are now back in their original groups or debuted with new groups but most of the time their fame that they had during the time they were in their produce-group got washed away and many people don't even know that someone was in a group from a survival show.
So in conclusion: many people didn't even debuted after produce 101 in Korea and most who debuted are actually a kind of no-name in Korea and a lot of them even allready disbanded with their groups since most Korean agencies tend to give them contracts between 5 months and 3 years with often not a chance to re-sign the contract and if groups are lucky to have a longer running contract than these groups will be sometimes even almost forgoten over time. As example: Because Weki Meki has members who were on Produce 101 the girls got a lot attention in the beginning, but now it slowed down a lot and many people seem to not care anymore about the group
Many groups who were found since the last Korean season who have members that went on Produce 101 are also not really doing that great either, except maybe 1 or 2 groups who have members from the failed Produce-winner group X1 but still I don't get to hear that much of these groups so I wonder if Produce X really did cause the hype around the show to die before the scandal or only after it happend.
__________________________________________________________
Now take a look at Produce 101 Japan or as many people refer to it PDJ. The show first didn't got many attention before it aired. It also had a few difficulties for many people to even audition. The show first said that they want to only have particioants who are not in the entertainment industry, wich ment that people who are idols or trainees or even actors and background dancer etc. had no chance to join the show unless they cancled all their contracts. One example would be Kosuke Honda who cancled his contract to his previous group WhiteA to be even able to participate on the show. Koskuke's member said he could come back when the show ends and he wouldn't make it, but Kosuke got WhiteA to disband cause he didn't returned to them. At the beginning also the producer wanted to only have 1 participant per prefecture but that didn't worked out and a lot of the particpants came from Tokyo at the end. Produce 101 Japan also had a few foreign participants who didn't even used to live in Japan as for example participants who used to live in Korea and Canada and had nothing to do with the Japanese music industry before or as in the case of 3 ex. KPop-idols they kind of yeeted the KPop-industry. At the end the show had more people who used to work in the entertainment industry than actually planned, even tho most of them were not working in the entertainment industry anymore at that time. Still the Japanese show had way more people whithout any experiences in singing and dancing than the Korean one.
Another difference to the Korean show is that at the end more as half of all participants will debut or re-debut. Many of them allready debuted and each and everyone wuill have a permanent contract wich means compated to the Korean one non of the groups will disband anytime soon.
Let's have a look at the groups who got found trought Produce 101 Japan: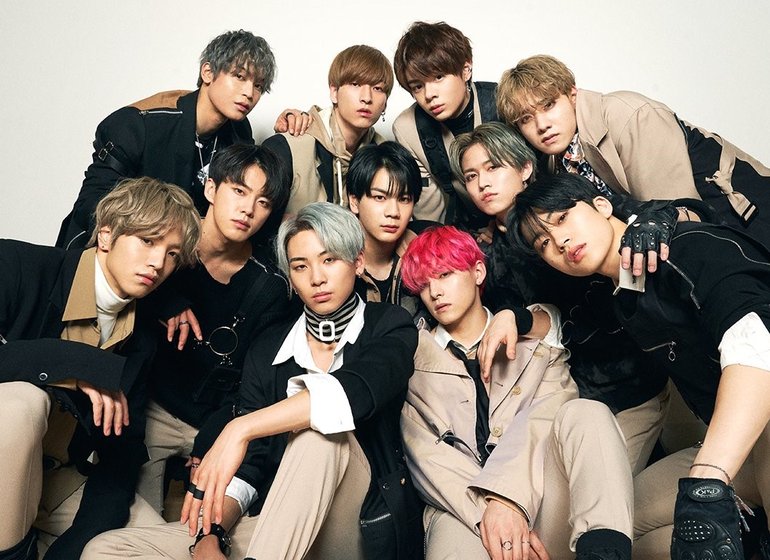 The winner group of the show. JO1 debuted in March 2020 and is signed to Lapone Entertainment, wich is a Japanese company under CJ,E&M. JO1 allready won 2 awards and their debut single sold over 360K times. JO1 has 2 singles and a full album now and are releasing their 3rd single soon. The group also was rescently on the Korean TV-show M COUNTDOWN. Acording to the Japanese media 300K sold CDs make 6 million $ in Japan so JO1 is doing pretty well right now. Their fandomname is JAM ( JO1 and Me)
The members:
Shion Tsurubo - ex. FNC Entertainment trainee
Ren Kawashiri - Was background dancer for different artists as like PENTAGON and WANNA ONE. He also worked as dance teacher before
Ruki Shiroiwa - Used to be in a group called YsR before and is also an ex. Johnny's Entertainment trainee
Sho Yonashiro - The leader
Issei Mamehara - He used to work as dance teacher before
Shosei Ohira
Syoya Kimata
Keigo Sato
Junki Kono
Sukai Kinjo
Takumi Kawanishi
One of their MVs:
They are a 9 member group under Universal Music Japan and another company called Showtitle. The group debuted in December 2020. The group has 2 singles so far
The members:
Tatsutoshi Miyazato (Sol)
Tsubasa Takizawa - The leader
Taiga Nanamoto - He used to work as actor before
Kyo Yamada
Hyuga Nakatani - He used to work as model before and owns hos own clothing brand
Ryono Kusachi
Toi Nakabayashi
Fumiya Kumazawa - He used to work as voice actor before
Sho Fukushi (A.rik) - He was member of a group called KRAZY BOYZ before and owns his own fashion brand
One of their MVs: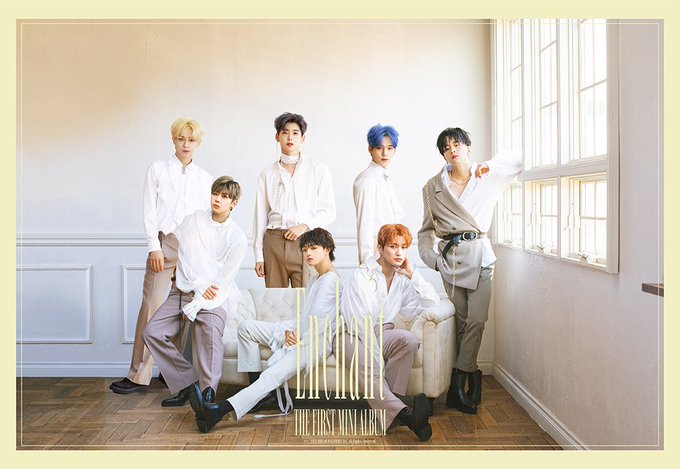 Or fully "Orbit Union" or simply Orbit is a 7 member group under Dream Passport. They debuted in November 2020. Different to the other groups who are made with Produce 101 Japan participants this group also has Korean songs on their discography. The group curently has 1 album and will release their first single soon. Their fandomname is called EARTH
The members:
Jun Uehara (June) - He was also on Produce 101 X before
Jung Younghoon - He was member of a KPop-group called HALO before. He is also the group's leader
Kim Heecheon (Heecho) - He was member of a KPop-group called HALO before
Kim Yoondong - He was member of a KPop-group called HALO before
Tomoaki Ando (Tomo)
Shunya Osawa
Yugo Miyajima
Their debut MV:
Boom Trigger
A 5 member group under WORLD Entertainment. They debuted in August 2020 with a double sided single and will release a new single soon
The members:
Yu Ando - The leader
Tatsuki Yuki
Rikuto Omizu
Hikari Inayoshi
Kaito Okano
One of their MVs:
Or fully "Our own Way to get Victory" is a 4 member group under Universal Music Japan. They debuted in August 2020. They curently have 3 singles. Their fandomname is called QWV (pronounced as Cubie)
The members:
Kosuke Honda - The leader. He was in a group called WhiteA before
Katsunari Nagakawa
Fumiya Sano - He was background dancer before
Shuta Urano - He is an ex. Johnny's Entertainment trainee and was alsoworking as an actor under the Japanese music-company Avex
HICO
His realname is Masahiko Imanishi. He debuted as soloist under Dream Passport in December 2020. He is having 1 single at the moment
His debut MV:
Lee Minhyuk
He is debuted as vocalist in August 2020. He is actually working as Youtuber in Japan so he is probably not releasing any other new songs anytime soon than this one MV that he has. Minhyuk is curently signed with CJ,E&M and MH Entertainment but mostly for his work as a Youtuber
His debut MV:
NVRLND
A 6 member group that debuted in February and will release their first MV soon in March
The members:
Koki Nishio
Akira Takano - The leader (Pls don't confuse him with another JPop-artist who has the same name lol)
Takehiro Okada
Akihito Furuya
Masanami Aoki
Hideyuki Nagahashi - He is the only member who wasn't on Produce 101 Japan before. Hideyuki was on the survival show G-EGG before
Or fully "Black x White" is a 5 member group under Churros Entertainment. They debuted in October 2020. It was said that they should've debuted with 3 more member as 8 member group in Spring 2020 but after 3 member left the group back than (1 of them is now trainee under RBW Entertainment) their debut got delaid for a few months. They have curently 2 singles. Their fandomname is CROSS
The members:
Kento Kitaoko - The leader
Kanta Migada
Takeru Gutierez
Shintaro Sagawa
Daisuke Hayakawa - He is the only member who didn't went on Produce 101 Japan before.
One of their MVs:
A 6 member grouo under Dream Passport who will debut somewhat in 2020. The name of their debut single is allready known but its unclear when they will debut with it. Their fandomname is called REBBA (Reboot + Libra).
The members:
Hikaru Kitagawa - The leader
Minato Inoue
Raira Sato
Koshin Komatsu
Mahiro Hidaka - He was not on Produce 101 Japan but on Produce 101 X. He is also an ex. YG trainee and participated in TREASURE BOX too
Wang Jyunhao (Guno) - He was not on Produce 101 Japan but on Produce 101 X. He is also an ex. YG trainee and participated in TREASURE BOX too
So what is your opnion on the differences between Produce 101 Japan and Produce 101 Korea, let me know ~