Who is your Dreamcatcher bias?
45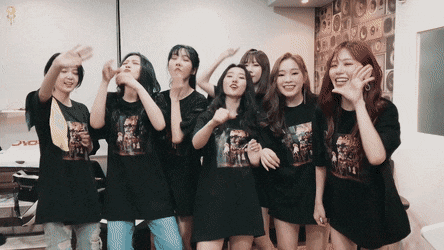 WHO IS DREAMCATCHER?
Dreamcatcher is a 7 member group formed originally under Happy Face Entertainment in 2017. Originally, they were a 5 member group under the name Minx from 2014-2016. With the addition of two more members, they transitioned from the typical cutesy KPOP concept to a unique poppy rock metal one we are lucky to witness today!
WHO ARE THE MEMBERS?
Jiu (지유)
Full Name: Kim Min Ji (김민지)
Positions: Leader, Lead Dancer, Lead Vocalist, Visual
Birthday: May 7, 1994
Nicknames: Pink Princess, Rabbit
What's Jiu Like?: She is unbelievably beautiful, often underrated overall amongst visuals in the industry. She gives off a classy, sophisticated, mature vibe especially on stage. However, she can often be the fake maknae at times and knows how to have fun with the group. She loves receiving love from her fellow members and she couldn't be more proud to be a leader of this amazing girls.
Sua (수아)
Full Name: Kim Bo Ra (김보라)
Positions: Main Dancer, Vocalist
Birthday: August 10, 1994
Nickname: Queen
What's Sua Like?: A dancing machine. One of the best today. She can choreograph as well. Vocals are pretty stable as well. Her stage presence is unbelievable. However, when she is not performing, she is the biggest dork. She loves teasing the other members and has the most distinguishable laughs you'll hear. She also loves being perverted and touching other members. I would say she is the mood maker of the group.
Siyeon (시연)
Full Name: Lee Si Yeon (이시연)
Positions: Main Vocalist
Birthday: October 1, 1995
Nickname: Wolf
What's Siyeon Like?: Her vocals are no joke. They need more appreciation to be honest, just listen to her covers and sustained note in BOCA. Also has deadly facial expressions on stage. Outside of performing, she is just another a silly goose which is the norm for being in this group. Together with Sua, they become the crackhead duo and the lovers of the group. Never a boring moment when Siyeon is in the room.
Handong (한동)
Full Name: Han Dong (韓東)
Position: Vocalist
Nickname: Dongie
What's Handong Like?: She has real unique and pleasing vocals, despite not being a lead/main vocalist. Just listen to her part in Deja Vu! Being the only foreign member of the group, she brings her unique flare to the group. Group learns their Chinese from her especially Yoohyeon, who basically uses her as a Rosetta Stone. She was gone for one year during Scream and Boca promotions unfortunately. However, it seems that being back from China, she has gained more confidence in all departments! Can't wait to see what she brings in the upcoming comebacks! Personaliy wise, she is a bit quiet but is quite savage and quirky which makes other members burst out laughing because they simply love being roasted.
Yoohyeon (유현)
Full Name: Kim Yoo Hyeon (김유현)
Position: Lead Vocalist
Birthday: January 7, 1997
Nickname: Puppy
What's Yoohyeon Like?: She could be main vocalist material in other groups easily. They are powerful and stable. Her covers are my favorite! She's the only member of the group who can speak decent English. It's so cute as well, she doesn't have much of an accent! In my opinion, she is probably all around the most loved member of the group it seems. Everyone seems to want to be her girlfriend and be close to her and it's no surprise why. She is adorable and has a bubbly personality! She is my personal bias
Dami (다미)
Full Name: Lee Yu Bin (이유빈)

Positions: Main Rapper, Lead Dancer, Vocalist
Birthday: March 7, 1997
Nickname: Panda
What's Dami Like?: Can you believe this girl was in Minx? Hard to believe she did a 180 and became the badass rapper she is today. One of the most unique idols in KPOP period! She is a classic girl crush as you can tell by her visuals and her unique deep voice. She is the quietist member of the group and often touted as the smartest one as well. It isn't a suprise considering how relaxed she seems at all times.
Gahyeon (가현)
Full Name: Lee Ga Hyeon ( 이가현)
Position: Vocalist, (Unofficial?) Lead Rapper, Maknae
Birthday: February 3, 1999
Nickname: Gahyeonnie
What is Gahyeon Like?: The baby of the group and her appearance definitely matches that title. She is loud and often seems more mature than her unnies. However she loves being treated like the cutie she is. She is really coming into her own ever since Scream. I'm so proud of her, the evolution of her presence in the group is undeniable.
A short guide to the members!
WHY STAN DREAMCATCHER?
1. They are f'ing hilarious:

and
2. God Tier Discography
Here are some b-sides I love:
Solos:
As you can see, they don't only do pop rock!
3. They are beasts on stage!
FIRST KPOP GROUP TO PERFORM AT PRIMAVERA SOUND:
Content embedded from external sources will not be displayed without your consent.

Through the activation of external content, you agree that personal data may be transferred to third party platforms. We have provided more information on this in our privacy policy.
Other Great Stages:
Content embedded from external sources will not be displayed without your consent.

Through the activation of external content, you agree that personal data may be transferred to third party platforms. We have provided more information on this in our privacy policy.
Content embedded from external sources will not be displayed without your consent.

Through the activation of external content, you agree that personal data may be transferred to third party platforms. We have provided more information on this in our privacy policy.
They have a Weverse by the way! Make sure to follow them!
As a celebration of their 5th anniversary, they now have their
own instagram accounts:
Jiu: https://www.instagram.com/minjiu__u/
Sua: https://www.instagram.com/sualelbora/
Siyeon: https://www.instagram.com/______s2ing/
Handong: https://www.instagram.com/0.0_handong/
Yoohyeon: https://www.instagram.com/ms.yoohyeonkim/
Dami: https://www.instagram.com/00ld_ami/
Gahyeon: https://www.instagram.com/fox._.zzlo_/
Official Group: https://www.instagram.com/hf_dreamcatcher/

UPDATE: As of 5/11/22, Dreamcatcher now has an official GIPHY channel! Go follow it!