Who is your bias or favourite member?
11
The result is only visible to the participants.
Hello
Welcome to the home of WithU!
The official NiziU thread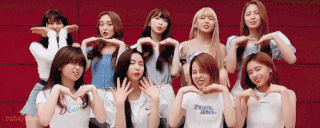 From Japan to the world
JYP and Sony Japan introduced the joint project audition program 'Nizi Project'. The global group was carefully selected by over 10, 000 viewers. As proof of their success from the public came to the name NiziU, 'U' meaning the fans (U) who supported them throughout the program and Nizi meaning the rainbow.
Here is an informative video about NiziU
Content embedded from external sources will not be displayed without your consent.
Through the activation of external content, you agree that personal data may be transferred to third party platforms. We have provided more information on this in our privacy policy.
The video details all their information
Some key facts about Mako, Miihi, Maya, Mayuka, Rio, Rima, Riku, Ayaka, and Nina that you may not know
& their journey from Nizi Project to debuting in NiziU