YG + YGPlus Revenue in 2020:
$230,500,000 + $96,757,000
2020 Revenue: $327,257,000
Articles mostly talking about increased album sales, expansion into Japan and YG's cosmetics line establishing a joint venture in China which will improve profits. YG-produced tv drama did well (YGStudioplex). And YGPlus distribution of BH albums, digital and merch for future growth
.
BLACKPINK's continued activity, TREASURE's expansion into Japan and BIGBANG's return to activity leads experts to maintain a BUY on YG and YGPlus stocks in 2021 where they expect YG's market cap to increase to 3-4 trillion Won.

Last year, YG grabbed and led black pink [General]
Input 2021.02.25. 11:38 am

Reporter Lee Sun-myeong
[Sports Trend]
·YG Entertainment's Leading Group Black Pink·Treasure Point
·'Queen Iron Man' Success, Big Hit, Naver Collaboration, etc.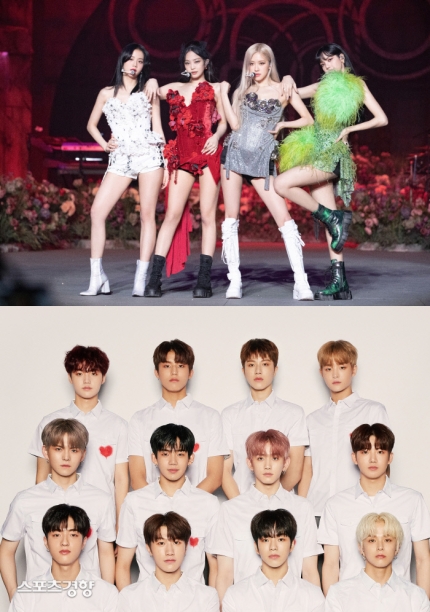 Original view
Black Pink (above) and Treasure were recognized as major groups leading YG Entertainment. Agency provided
The gaze of experts looking at YG Entertainment was favorable. They highly appreciated the performance of the 4th quarter led by the group Black Pink, the return of major groups within the year, and collaboration with major platforms such as Naver and Big Hit.

On the 25th, analyst Lee Ki-hoon of Hana Financial Investment said, "The profit potential is steadily rising through the suspension of the business in the red and the collaboration with Big Hit Entertainment." He raised the expected operating profit for 2022 by 12% to KRW 64.9 billion.

Analyst Ki-Hoon Lee gave a buy opinion with YG Entertainment's target price of 64,000 won. He said, "The artists' Weverse (Big Hit operating fan platform) is being launched in sequence, and in March, Treasures successfully entered Japan (album release), so we can check the profitability for the next 3 to 5 years."

Ahn Jin-ah, an analyst at Ebest Investment & Securities, also hopefully saw the future of YG Entertainment. He said, "The sales of the fourth quarter of 2020 were 83.4 billion won and the operating profit of 5.4 billion won, up 27% and 436%, respectively, compared to last year." "The global artist fandom led by the sales of Black Pink albums led to an increase in digital content demand." The TVN drama'The Iron Man Empress', which ended in popularity, was also reflected in the production sales of YGStudioplex (5.9 billion won).

The investment opinion was buy. Analyst Jin-ah Ahn said, "It is the only company that has signed a strategic collaboration with Big Hit Entertainment among the three major Korean entertainment companies, and it is possible to increase digital content sales targeting the global market through an online platform." We maintained the target price at 63,000 won.
Hanwha Investment & Securities analyst Ji In-ae also gave a buy opinion and maintained the target price at 62,000 won. He said, "The reason why offline performances were completely canceled, but there was little damage to annual sales last year was because of the explosive IP (intellectual property rights) performance. It is advantageous to prove."

He said, "The operating profit of 2021 is 40 billion won, and the expectation for the maximum earnings is still valid," he said. "As the activities of Black Pink and Treasure are strengthened and a return to the representative group is scheduled, both IP sales and gross profit are expected to grow rapidly."

In addition, he said, "The key points of growth are the future MD production of YG Plus (PULS), improved performance of the music division, and creation of additional sales by entering Weverse through the combination of Naver and Big Hit Entertainment, the most powerful platform."

Analyst Ji In-ae said, "All the trends surrounding the company, such as changes in the industry, relative market cap levels, artist awareness flow, performance direction, and platform combination, are very good."
YG Entertainment, expects to transfer cosmetics business and black pink activity↑-KTB
2021.02.25. 8:21 am
In the fourth quarter, the company-wide earnings improved significantly with the release of Black Pink's regular album. The album sold a total of 1.67 million copies ( 1.3 million Black Pink , 260,000 Treasures, etc.) and recorded 17 billion won , the largest album sales ever . Digital content sales also increased 39.3 % from the same period last year to 13.7 billion won due to the Black Pink comeback and the increase in the number of YouTube subscribers .
Production sales for this quarter recorded 5.9 billion won, which is related to the'Queen Iron Man' , (YG Produced tv drama) which was aired on tvN and recorded the highest viewership rating of 17.2 %. Although the profit contribution is low, it is explained that it is possible to produce a drama based on a solid production record in the future by having a production manpower (through YGStudioplex).
https://n.news.naver.com/article/018/0004861431
YGPlus recorded 6.1 billion Won in operating Profit in 2020
https://cm.lawissue.co.kr/view…242039319115204ead0791_12
Operating profit increased by 35.6%. ...since the 2nd half of last year artist activities resumed such as BLACKPINK and TREASURE. Major business growth such as music and MD were remarkable. Particularly in 4th Quarter
sales of album and sound distribution and online concert sales increased significantly. Sales and MD distribution increased 40% and 125% QoQ.
In addition YG's financial arm, YG Investments produced high profits.
"YG shakes off deficit business, expectation of synergy with Weverse ↑"
Input 2021.02.25. 7:44 am
  Revision 2021.02.25. 7:45 am


[Asia Economy Reporter Lee Min-woo] YG Entertainment has cleared up the cosmetics business unit, which was in the red, with the establishment of a joint venture in China ( JV ). At the same time, it is expected that the profit potential will steadily rise through cooperation in distribution of domestic albums and music with Big Hit Entertainment.
YG Entertainment recorded consolidated sales of 83.4 billion won and operating profit of 5.4 billion won in the fourth quarter of last year . Compared to the same period of the previous year , it rose 27.3 % and 435.6 %, respectively , but operating profit fell below the market forecast (consensus) of KRW6.8 billion. However , it recorded an operating profit of 10.7 billion won annually, an increase of 431 % year-on-year . The cosmetics business, the core deficit of YG Plus (annual operating deficit of KRW 3.6 billion), is a joint venture in China ( JV) This is because the trademark and goodwill were transferred through the establishment and reflected as a discontinued business. Through this , all divisions that had a combined deficit of 15 billion won, such as production, foods, and cosmetics , were cleared up.
The potential is growing through collaboration with Big Hit. Annual operating profit of 3 billion ~ 4 billion won is expected to be added. Reflecting this , it is predicted that next year's operating profit will reach 64.9 billion won.