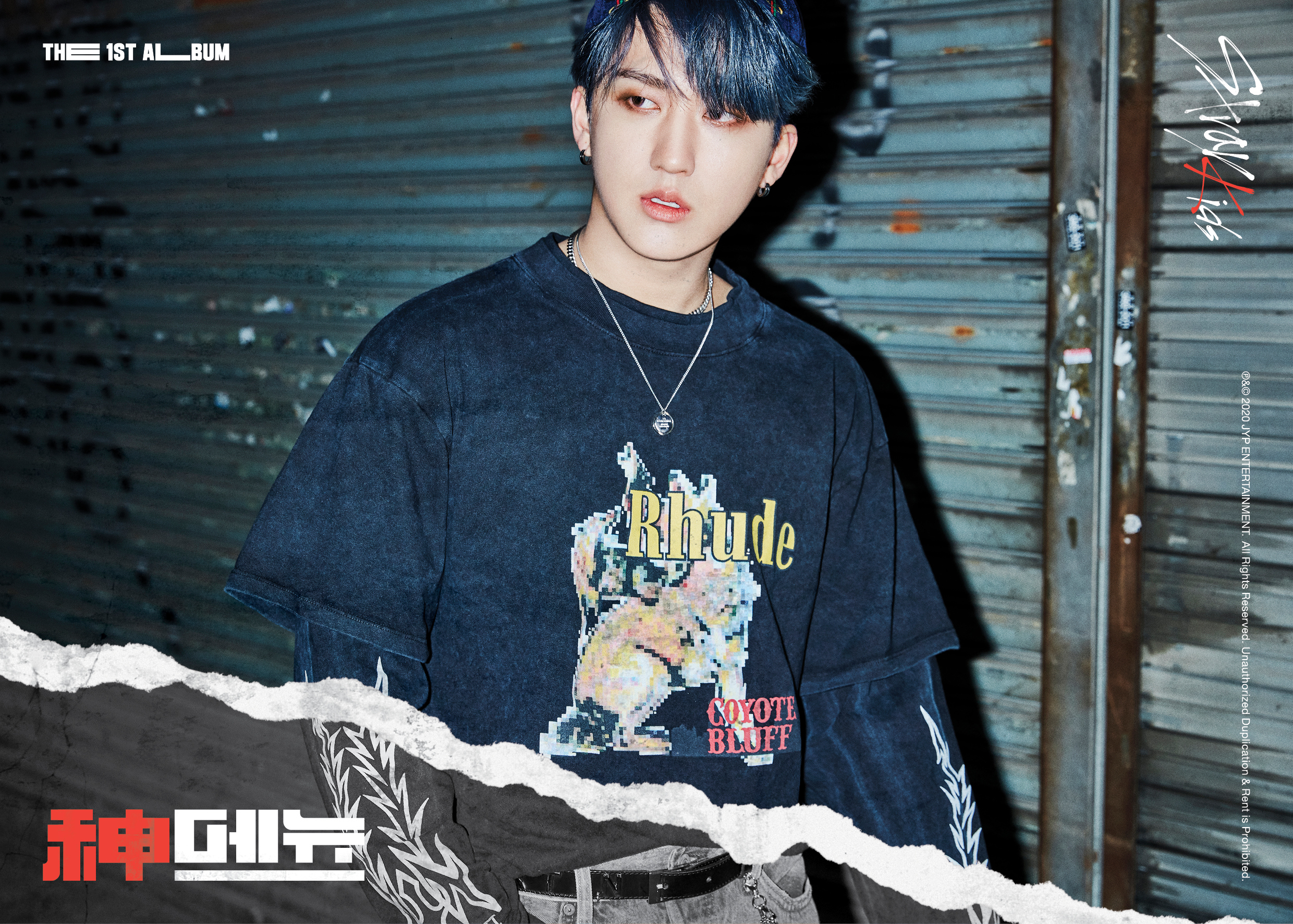 Changbin is a South Korean rapper, singer, songwriter, and member of the group Stray Kids.
I.
Information
Real name: Seo Changbin (서창빈)
Birthday: August 11, 1999
Birthplace: Yongin
MBTI: ENFP
Zodiac sign: Leo
Blood type: O
Representative animal: Dwaekki (pig + bunny)
Motto: "At the end of hardship comes happiness. Let's change crisis into opportunity."
He is also a member of the producing subunit 3RACHA, responsible for the creation of Stray Kids' music.
II.
How he became an idol
Changbin first recognised his love for performing after performing on stage at school events. At first, he began taking dance and vocal lessons; it was after a comment from his vocal teacher on his vocal tone that he tried rapping — and quickly found a passion for it. In 2016, at 17, he auditioned for JYP Entertainment with a self-made beat and rap and was accepted. Although up until then he kept promising his parents to get into a top university, they welcomed his change of heart, saying they wished they had realised earlier their son is so talented. Less than a year after Changbin joined, he went on to form 3RACHA together with Bang Chan and Han.
II.
Meet Changbin through music.
Despite his young age, Changbin has undoubtedly established a distinct musical identity. It is also a multifaceted one: his signature "roaring" rap and dark image, and also his sensitive, emotional lyricism and songs coexist together to form a whole that represents him and is recognisable right away.
Below you can listen to Stray Kids songs and also group and solo projects that are defined by his creative lead or that he's the sole lyricist of.
With Stray Kids …
"On Track"
Everyone has opportunities they miss out on but some the idea of not fulfiling certain dreams can seem impossible. Wishes become personified in this delicate yet powerful song.
"It's too late
The last train to return to you has stopped
I should've hurried It's too late to regret it now
The sky is still blue but why is everything blurry
Within my blurred vision I can only see you clearly"
"Ex"
Sometimes it's fine to use strong expressions to cope with and let out difficult emotions. This sentimental song is a touching and honest reflection on a break-up that is the fault of one.
"Curse me for it, it's fine
Curse curse curse me all you want
Until your hatred for me turn into anger
So that you would relieve your anger and we could be together again"
"One Day" is a song with a bright, refreshing feeling that Changbin wrote with the intention of telling a relatable story people can comfortably listen to. It allows the listener to immerse themselves too in the magical, melancholic feeling of walking home in an unexpected snowfall and suddenly meeting a person dear to one.
"Even though I thought I was doing well
I don't have an umbrella
And I've used up all my luck
All that's left of me is only you"
(The Korean version of the song hasn't been released yet.)
"Sorry, I Love You" is a catchy, sentimental pop song with raw, instrospective lyricism contemplating a confession.
"I just wanted to be with you, the two of us, together
The tickets were just an excuse"
…with members...
"Cause I Like You" is confession that's sweet and light-hearted in sound and heartfelt and sincere in meaning, delivered by Changbin and Felix on White Day.
"You can lean on me until your cloud of worries disappear from your clear eyes
What's giving you such a hard time
I'm serious, I'd rather hurt instead of you
Seeing you smile makes me happy"
"Piece"
Changbin and Seungmin's duet is a tranquil, bittersweet acceptance of hurtful moments in life, released on the group's 3rd debut anniversary.
"I know that you, who keeps wearing me out
will fill me up in the end
That it won't hurt even if I hold you tightly in my hand"
… and by himself
"Streetlight" is a track about comparing a person to a streetlight, who's hurting alone and sad but can't tell others, who laughs as if nothing's wrong, on top of a boom bap hip-hop track.
When you talk about it with someone, the other person can't resolve everything, but it makes your heart feel at ease just by talking about it. Honestly speaking, there were times when I really couldn't tell anyone anything and had a hard time alone before I wrote this song.
As I wrote down the lyrics and recorded the song, I felt relieved as if I had opened up about everything to someone.
I hope the people who listen to this song will find someone who shares the pain together with you and listen to your story." — Changbin
"Cypher" is a captivating showcase of both Changbin's versatility as a rapper and a wide array of his emotions regarding his identity as an artist, also as an idol rapper. As Changbin said, it's a track that does not need a description, as everything he wanted to say is in the lyrics.
III.
Trivia
He's the youngest idol to have as many KOMCA-registered credits as he does. (102 as of January 2022). He's the second most copyrighted 4th generation idol after Bang Chan.
He's said to be the loudest member.
His response to Seungmin's question whether a food is delicious or not — "Try it and judge for yourself. Don't let others decide for you. I hope you become a man of principles." — went viral several times for being quite philosophical for a conversation about food.
He sometimes reads books on philosophy for inspiration.
He takes being teased as a sign that that other person is comfortable around him.
He's quite health conscious.
When Changbin was young, he considered becoming an entomologist, but later he realised he hates bugs.
He learnt to play the piano and violin, while his favourite VST is an electric bass one.
He is very close with his older sister.
He's a fan of Ariana Grande, Kendrick Lamar, and multiple YG artists.
He's a devoted Samsung user.
His favourite season is autumn.
He's said to do aegyo the most.
His representative character Dwaekki is somewhere between 50 to 99 percent bunny.
He is a good listener.
He's said to be the most romantic member.
He can speak English conversationally.