I made these on the previous site but I updated some info so I thought I would post it again.
Daesung Planning: 1987~1997, A Tepid Start
If there was one Entertainment company that challenged SM Entertainment during the 90s and to some extent even to the early 2010s, it was DSP. It is not a stretch to say that Daesung Enterprise (now DSP Media) and SM Entertainment owned the Korean Pop Music scene of the late 90s and early 2000s. DSP's story began in the 80s music scene of Korea which was seriously oppressed due to the overbearing policies of the dictator Chun Doo-hwan. Broadcasting companies such as MBC and KBS were as censored as ever but sexual suggestive aspects of pop culture received far less scrutiny under the Chun regime than it had under its predecessor Park regime. The eighties also saw a change in who was the primary consumer of Pop culture, teenagers now began to see their rise as one of the primary consumers of the Pop culture market. In particular teenage girl fans began to dominate the market and were dubbed "oppa budae". It was thus that during the 80s dance music began to find its footing. It was into this scene where the Dance Trio SoBangCha or "Firetruck" debuted with the man who help of a man named Lee Ho-yeon.
SoBangCha
Lee Ho-yeon was an impressive man, graduating high school in Daejeon and entering college as a physical education major at Sungkyunkwan University in Seoul. In college Lee Hoyeon meet many individuals that helped him in the entertainment world. One such individual was Yang Seung-guk, President of Hanbat Planning, who in 1981 invited Lee Ho-yeon to join his company and become a manager for then singer Taejin. It was during this time that the group SoBangCha was found by Lee Ho-yeon and Yang Seung-guk. The group was created by three friends; Kim Tae-hyung, Jeong Won-kwan, and Lee Sang-won. The group debuted in 1987 under Hanbat Planning at the direction of executive director Lee Ho-yeon and was initially named Butterfly Sin in the Cosmos, this was changed, due to the difficulty of the pronunciation, to SoBangCha or "Firetruck". The group became the prototype for future K-pop groups such as H.O.T, Sechskies and S.E.S. The group debuted in 1987 with the song "Last Night" and instantly became a big hit gaining many female fans. There were tensions in the group however and member Lee Sang-won left the group in 1988 and was soon replaced later that same year by Do Geon-woo. The group then released their second album to even more success and acclaim. The title song of their second album released in 1988 had more hits with "White Wind", and "Top Secret". Soon after their 2nd album, their 3rd album was released in 1989 and was met with similar success. However, the groups success was not without problems as frictions within the group continued to plague them. That same year, SoBangCha participated in the KBS animated film "Wonder Kitty of the Universe" and released a Best of album. However, the friction would catch up to the group and they would disband in 1990. During his time at Hanbat Planning, Lee Ho-yeon also managed other singers such as Yu-yeol and Shim-sin, but SoBangCha was his biggest accomplishment at the company.
In 1991 Lee Ho-yeon finally left Hanbat Planning and founded Daesung Planning, also known as Daesung Enterprise. The company was quick to release their first artist named Kim Gyu-min with his first album titled A Classic Story in 1991. The debut did poorly and thus Daesung Planning did not get off to a successful start. Daesung Planning then shifted gears and released the first CO-ED group in the history of K-pop known as ZAM. The group was created fresh off the success of Seo Taiji & Boys and looked to capitalize on their massive success. The group consisted of Jo Jin-su, Yun Hyeon-sook, Hwang Hyun-min, Shin Sung-bin, and Kim Hyun-jung. The group released their first album titled I Won't Stop in 1992 to decent success and won several awards at music shows. The title song, "I Won't Stop", became popular among teenagers and the members gained popularity due to their good looks. Following this success ZAM released a Secret Remix album in 1993 with a remix of their debut song after some plagiarism controversy. Before the release of their second album members Hwang Hyun-min and Shin Sung-bin decided to leave the group due to a fight about import distributions. The group would continue with the remaining members and in December of 1993 release their 2nd Album titled Awkward Feeling, this album did not see the same success as "I Won't Stop" and this was the beginning of the end for the first K-pop CO-ED group. ZAM would do an OST for the SBS drama Dr. Jackie Chan in 1993 but this would not help their situation. The group would release their final album in 1995 titled ZAM 3 Sounds with the title track "My Own Reasons" which again did not met expectations and continued the downward spiral that the group was experiencing. ZAM member Jo Jin-su would release his 1stsolo album that year titled You and I, this was also met with little success and the group continued to face poor prospects.
ZAM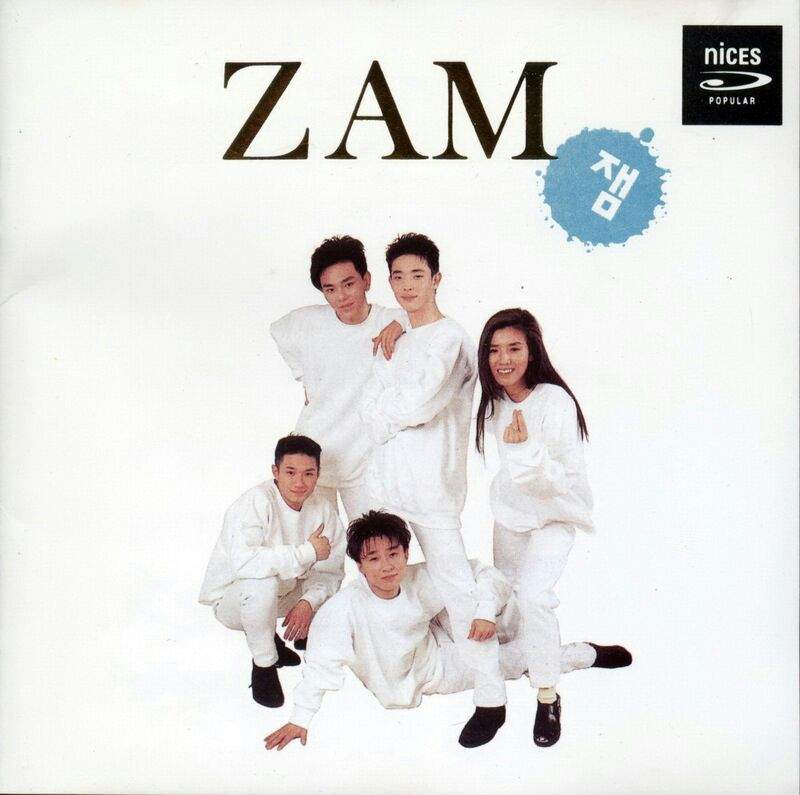 CO CO
forum.allkpop.com/suite/attachment/894/pasted-from-clipboard.jpg

In 1993 Daesung Planning also released their first girl duo named CO CO. The group was made up of Lee Hye-young and ZAM member Yun Hyeon-suk. Lee Hye-young had made her musical debut in the rock group 1730 in an underground music club in 1990. Lee Hye-young was thinking about quitting music all together but Lee Ho-yeon contacted her and convinced her to join a duo with ZAM member Yun Hyeon-suk. CO CO would debut in 1993 with their album, COCO Vol1 Missing You, find decent popularity. This debut was quickly followed by their second album titled You're Inside Feeling, this release seemed to follow the path that past Daesung singers had had and did not live up to the success of the 1st album. Daesung Planning would release their second CO-ED group named MUE in 1994 with the debut album titled MUE and their title track named "New Feeling". The group was made up of members Lee Yoon-sung, Lee Ji-hoon, Yu Young-chae, Kim Joon-Hee, Yang Hyuk, and Kim Nana. During the promotions for their debut song Kim Nana left the group and joined another group. As 1995 began both CO CO and ZAM would disband and Daesung would be in the precarious position of having debuted three failed artists in a row. Before the release of MUE's second album members Lee Ji-hoon and Yang hyuk would leave the group to be replaced by Lee Chang-seok.[1] This new four-member MUE, now the only group with Daesung Planning, released their 2nd and final album titled MUE II with the title track "Another Aspect of Me", which, like their first album, saw very little success. The song would reach a peak at 21 on the K-pop Top Ten chart. It was at this time that Daesung reevaluated themselves as they had not yet released an artist that found consistent success through multiple releases.
MUE
They came back in February of 1996 with the duo IDOL which was composed of members Choi Hyuk-joon and Lee Se-sung, both members being in their mid-teens. Debuting artist so young was new to the Korean music scene but it would start a trend that continues to this day. The group found great success with their debut album IDOL and their title track "BOW WOW "and it looked like Daesung had finally found their footing. The group soon released their second album titled The Second Coming in November of 1996 and this too found major success. IDOL ended the year with a Christmas carol titled Idol in Christmas. That same year Daesung released a duo called Mountain. This duo was made up of former Mue member Kim Joon-hee and Oh Chang-hoon from a group called Check. Mountian's debut album was titled Mountain and their title track was named "TANGO TANGO". This group did not find the same acclaim as their brother group IDOL and did not release another album after their debut. Kim Joon-hee after having two chances at a singing career with Mue and Mountain, would finally leave Daesung Planning. Oh Chang-hoon would also leave and eventually join JYP Entertainments duo One-Two.
IDOL
Mountain
The year 1997 would begin tough for Daesung Planning as the duo IDOL suddenly announced their disbandment to the public with their final song titled, Good-bye My Friends. But this year would also see Daesung's rise to fortune as they would debut their most successful group so far, Sechskies.
This early period of Daesung Planning was tough and saw them debut artists to promising starts only to have them flounder with their 2nd album. Daesung Planning and Lee Ho-yeon can be differentiated from SM Entertainment by their tendency to debut CO-ED groups and by their not so strict idol creation system. Daesung Planning did train individuals like SM Entertainment but their focus was different and did not look at a trainee's character development as much as SM's training did and instead focused on creating realistic groups and music. This approach would especially show with their first big group, Sechskies.
[1] https://newslibrary.naver.com/…o=15451&publishType=00010