Wich mall would you go to?
4
I'm bored so if you would go shopping for beauty, fashion, jewlery, wich of these malls would get your most interest to go there?
The list is based on malls in Germany. Since I don't know all malls who exist I am just useing those I went to
Mall 1
Name: Thiergalerie
City: Dortmund
2,5 floors and a basement-floor
143 shops
23 places to eat
6 service points
Drugstores like DM, Douglas,..
Fashion stores like Superdry, Tommy Hilfiger, H&M, Tally Weijl, Zara, Primark, New Yorker,...
Underwear stores like Triumph, Hunkemöller,...
Make up brand stores like MAC,...
Stationary stores like Mc Paper,...
And many other types of stores for example photoshops, party surply stores, tea stores, children fashion,... and so on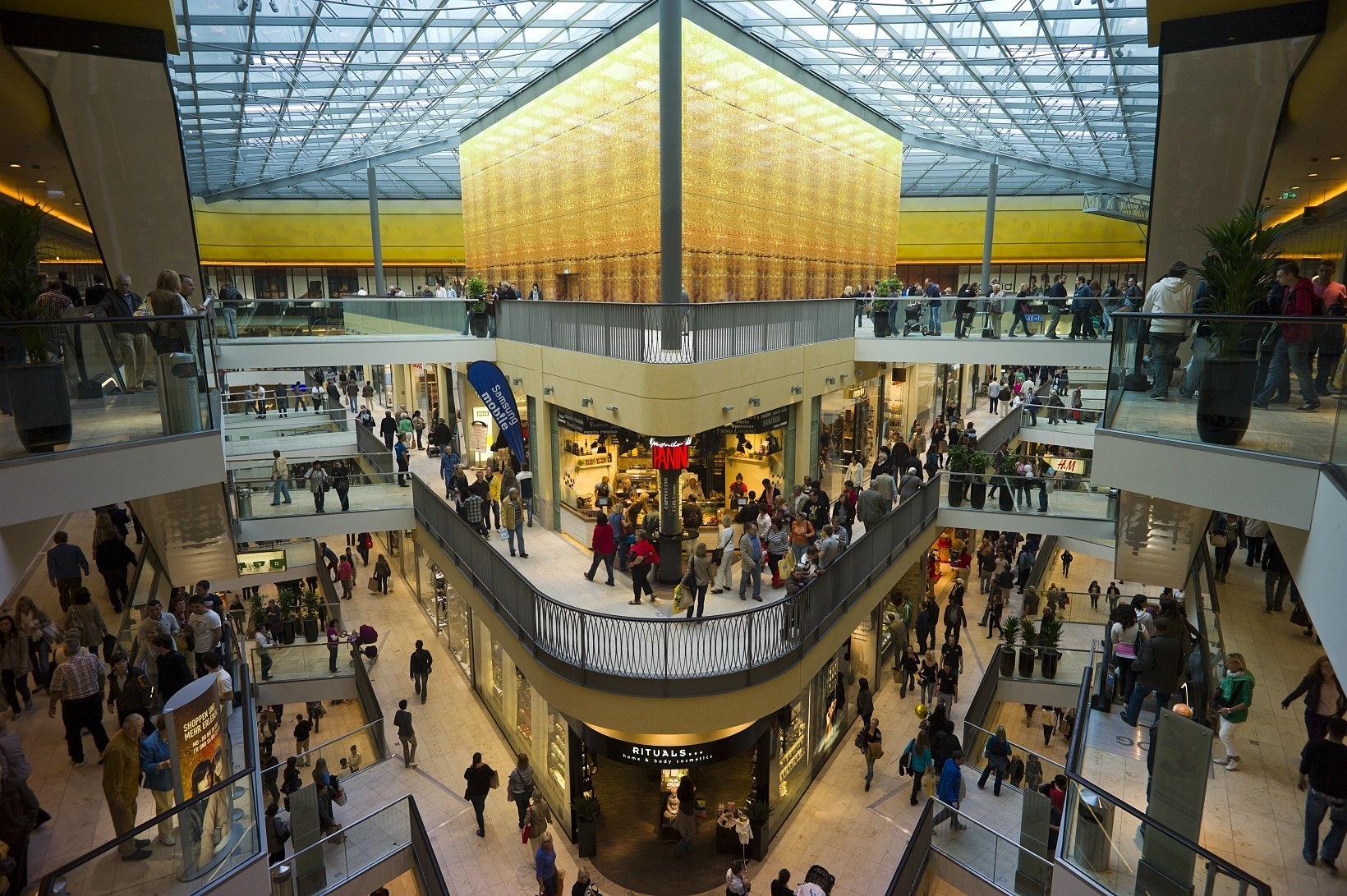 Mall 2
Name: Centro
City: Oberhausen
2 floors
159 shops
46 places to eat
1 service point
Drugstores like DM, Douglas,...
Fashion stores like Tom Tailor, H&M, Birkenstock, Blue Tomato, C&A, Calzedonia, Desigual, Diesel,...
Decoration stores like Tiger, Hema, Nanu-Nana,...
Toy stores like Lego Store,...
Mall 3
Name: Europa Passage
City: Hamburg
3 floors and 1 basement floor
120 shops
37 places to eat
1 information point
Fashion stores like Desigual, Hollister, Levis, Only, Onygo, Zero
A supermarket
Toy stores like Spiel Max,..
Beauty stores like The Body Shop, Rituals,...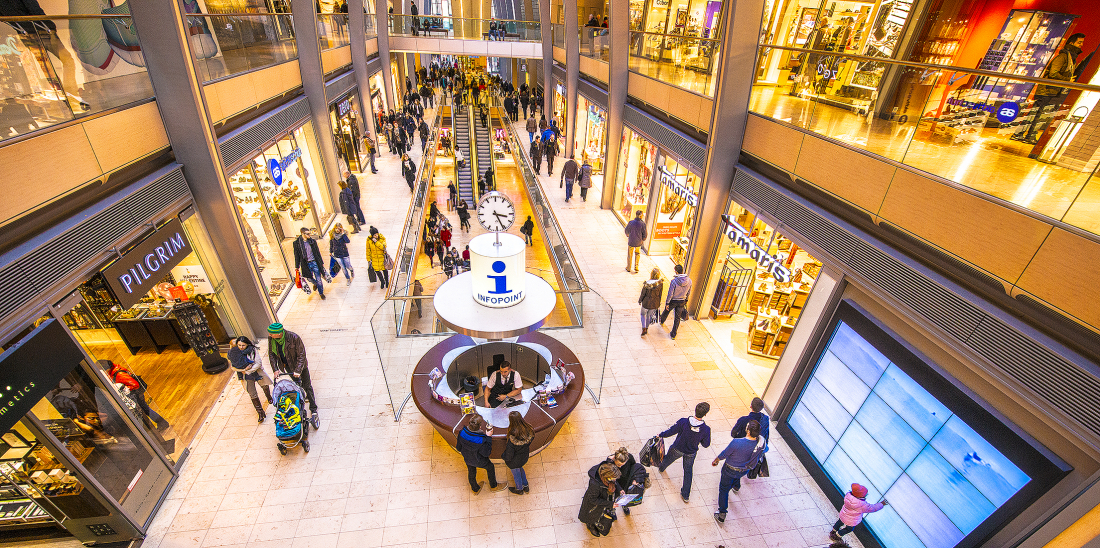 Mall 4
Name: Limbecker Platz
City: Essen
3 floors and 1 basement-floor + direct connection to the subway inside the mall + 2 whole floors to park your car
131 stores
27 places to eat
2 information points
Fashion shops like Monki, Superdry, Hollister, Jack&Jones, Kult, Levis,...
A supermarket
Drugstores like Douglas, Rossmann,...
Other stores like Child fashion, nail salon, places to book your hollidays, party surply store,...
Mall 5
Name: Arkaden
City: Münster
2 floors + 1 basement floor + 1 floor is only accessible trought a store
39 shops
4 places to eat
1 service point
Fashion shops like Calzedonia, Betty Barkley, Ernsting's Family,...
Drugstores like DM, ...
2 floor big electronics stors Saturn
1 bio-food supermarket
Toy stores like ToysRus,...
other stores like hairsalon, a bank,...
Attached to it are outside the building some more stores for fashion as well as a 3 floor big bookstore
Mall 6
Name City Arkaden
City: Wuppertal
2 floors + 1 basement floor + 1 floor for parking
60 shops
11 places to eat
1 information point
Fashion stores like Tom Tailor, New Yorker, Calzedonia, ...
Drugstores like DM, Douglas,...
Other types of store like bookstores, places to book hollidays, nailsalon, hairdresser,...
1 supermarket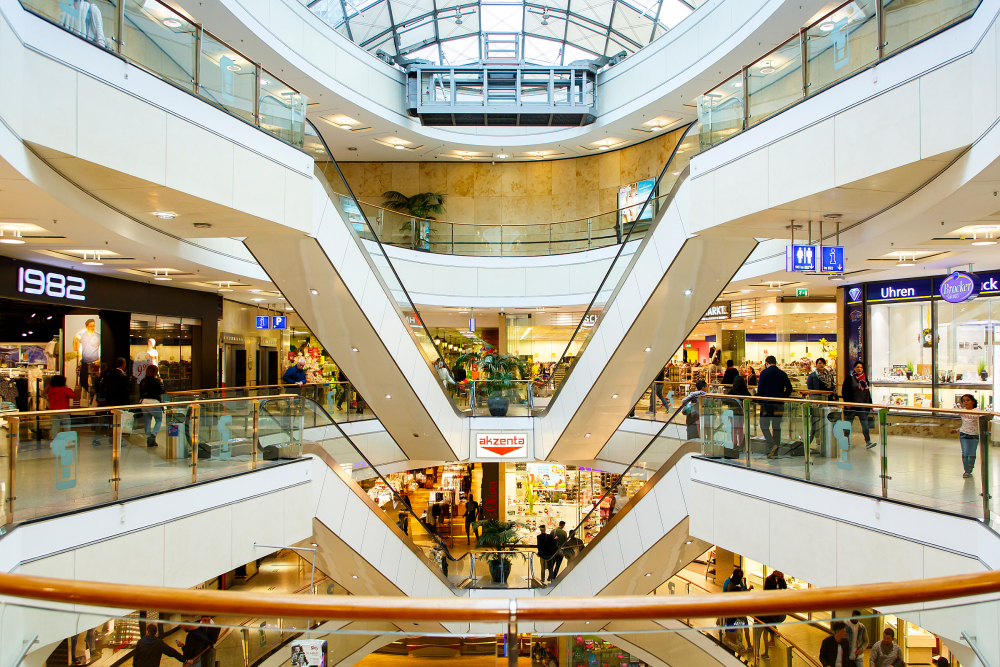 Mall 7
Ruhr Park
City: Bochum
137 shops
39 places to eat
2 information points
1 floor except for a few shops who have 2 floors
Fashion stores like Levis, Camp David, New Yorker, H&M, Cecil, Gerry Weber, Ernsting's Family, Guess, JeansFritz, Mango, Only, Onygo, Orsay,...
Decoration stores like Depot, Nanu-Nana, Buttlers, H&M Home, ...
1 electroncics store,
1 supermarket, as well as a second supermarket on the parkinglot
Other stores like party surplies, arts&craft/ Stationary surplies, ... I think they have also a store to build your own plushi
The mall is also attached to a cinema with 45 rooms to watch movies