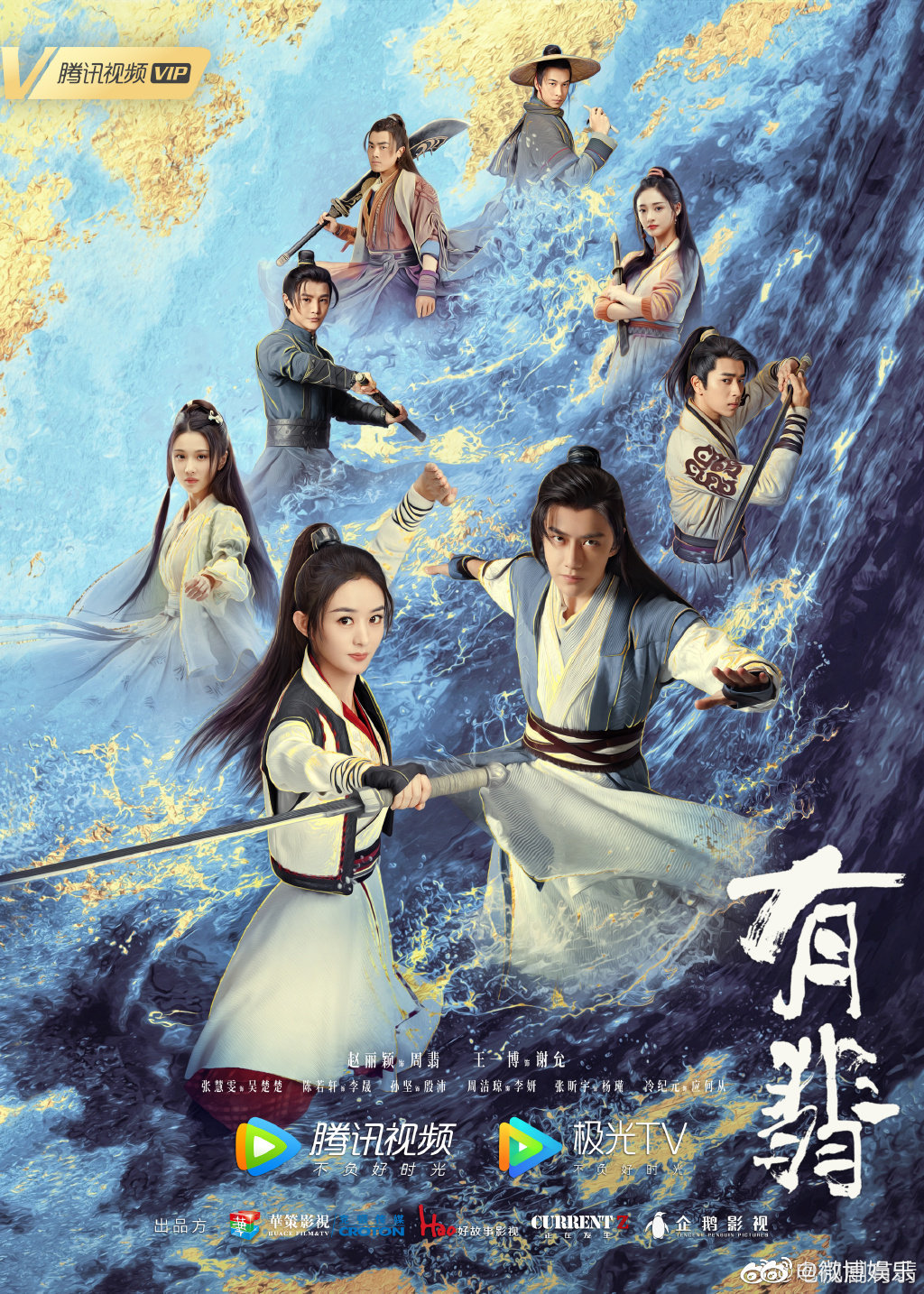 I.
Introduction
Legend of Fei is a 2020-2021 Chinese historical drama based on Priest's novel Bandits. It was directed by Wu Jingyuan and stars Zhao Liying as Zhou Fei and Wang Yibo as Xie Yun. The show was premiered on the Hubei TV Channel on December 15, 2020, and then was exclusively broadcast on Tencent Video and WeTV on December 16 of the same year. For standard account on Tencent Video, the show aired one episode daily at 20:00 CST from Monday through Sunday, from December 16, 2020 to February 03, 2021.
II.
Synopsis
Many years ago, there was chaos in the realm of Jianghu. A famous swordsman named Li Zheng (Hu Bing) established the 48 Strongholds to fight against the evils and protect the commons, but after his death, the popular Jianghu sects lost prominence. Li Zheng's daughter Li Jinrong (Che Xiao) took over the sects and married Zhou Yitang (Zong Fengyan). Their daughter, Zhou Fei (Zhao Liying) grew up in a safe but isolated home. Sick of being confined to the place of her birth, Zhou Fei longed to escape and made repeated efforts to get away. But her life took a great turn when she almost drowned while saving her cousin and was only saved by a free-spirited young martial arts master named Xie Yun (Wang Yibo). Their special relationship started from then. They decided to hone their fighting skills together when meeting again after Zhou Fei gained permission to descend the mountains and go on a mission. While fighting against Disha Manor and other evil forces, the relationship between Zhou Fei and Xie Yun started to develop. With new martial arts masters met along the way, they began to unearth secrets, including that of Xie Yun's true identity and the treasure that had been hidden for several years by the previous dynasty.
III.
Trailers
IV.
Episodes
V.
OSTs
VI.
Reception
On China Tencent Video platform, Legend of Fei reached a record of over 130 million views within only the first 8 hours of release and 4 billion views in just over 1 month. When the drama series ended in February 2021, although all the episodes except the first two had already been locked by Tencent, the number of views still achieved a record of 5.12 billion on the exclusive domestic platform. Legend of Fei is also popular overseas, gaining Top 1 spot on WeTV Thailand and WeTV Philippines after only 1 week of simultaneous release. It currently has the scores of 9.3 on Rakuten Viki, 8.2 on IMDB, 8.0 on Mydramalist &, 5.7 on Douban.
VII.
Awards & Nominations
| Year | Award | Category | Result |
| --- | --- | --- | --- |
| 2021 | Tencent Video 10th Anniversary | Film with the most Commercial Value of the Year | Won |
| 2021 | Tencent Video 10th Anniversary | Top 5 Movies most Loved by VIP Members of the Year | Won |
| 2021 | Tencent Video 10th Anniversary | Top 12 most Popular Movies of the Year | Won |
| 2021 | WeTV Top Ranking 2021 | C-Drama Top 5 Views (No.1) | Won |