ALBUM COVER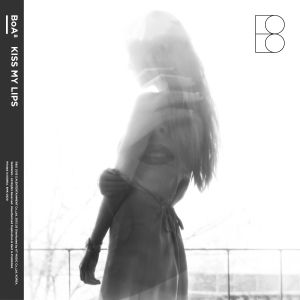 Kiss My Lips is the eighth Korean-language studio album by South Korean singer BoA.
It was released digitally on May 12, 2015, and physically a day later by SM Entertainment, and distributed by KT Music.
The album features twelve tracks in total, including a pre-release single "Who Are You" and the lead single which shares the same name as the title of the album. The self-produced record (for celebrating the fifteenth anniversary of BoA's debut) is her first Korean full-length release since Only One (2012).
SPOTIFY
Content embedded from external sources will not be displayed without your consent.
Through the activation of external content, you agree that personal data may be transferred to third party platforms. We have provided more information on this in our privacy policy.
LYRICS
Legend: Korean Lyrics in Pink, Romanizedin Orange and Translations/English Lyrics on default mode.
시큰둥한 태도 관심 없는 듯 시크해
sikeundunghan taedo gwansim eopsneun deut sikeuhae
An indifferent attitude, as if you don't care, chic
한마디 던지면 또 대답은 성심성의껏
hanmadi deonjimyeon tto daedabeun seongsimseonguikkeos
If you say one thing, I'll answer wholeheartedly
적극적 이어 보이진 않지만 항상
jeokgeukjeok ieo boijin anhjiman hangsang
You don't seem too forward
눈에 거슬려 묘한 매력 마치 넌 LIKE A FOX
nune geoseullyeo myohan maeryeok machi neon LIKE A FOX
But you always catch my eye, a strange charm like a fox
근데 말이야 끌린단 말이야
geunde mariya kkeullindan mariya
But I'm attracted to you
챙길 듯 말 듯한 그런 행동이
chaenggil deut mal deushan geureon haengdongi
Your actions that seem like you care for me but not
자극한단 말이야 그렇단 말이야
jageukhandan mariya geureohdan mariya
It provokes me, it does
작은 배려들이 계산적이지가 않아 멋져
jageun baeryeodeuri gyesanjeogijiga anha meosjyeo
Your small concerns doesn't seem made up, it's cool
알고 보면 순진해 순수해 마성의
algo bomyeon sunjinhae sunsuhae maseongui
You're actually innocent and pure
매력 넌 LIKE A LOVELY FOX
maeryeok neon LIKE A lOVElY FOX
A devilish charm like a lovely fox
생각할수록 빠져들게 하는
saenggakhalsurok ppajyeodeulge haneun
The more I think about you, the more I fall for you
사랑스러운 너의 모든 것
sarangseureoun neoui modeun geot
Everything about you is lovable
시간이 지날수록 하나씩 늘어나는 너의
sigani jinalsurok hanassik neureonaneun neoui
As time goes by, your charms increase
매력에 이젠 내가 더 빠져들어버렸어
maeryeoge ijen naega deo ppajyeodeureobeoryeosseo
Now I've fallen even more for you
여우 같은 너 사랑스런 너
yeou gateun neo sarangseureon neo
You're like a fox, you're so lovable
LIKE A LOVELY LO-LOVELY
FOX I'M SO IN TO YOU BABE
하루는 뜸한 듯 어느 날은 또 과감해
haruneun tteumhan deut eoneu nareun tto gwagamhae
Sometimes quiet, sometimes very forward
밀당은 재주 없지만 노력은 참 가상해
mildangeun jaeju eopsjiman noryeogeun cham gasanghae
I'm not good at playing games but my efforts are admirable
다 보이지만 모르는 척 난 넘어가는
da boijiman moreuneun cheok nan neomeoganeun
You see me but you pretend not to
행동 가끔 부끄러워질 때도 있어
haengdong gakkeum bukkeureowojil ttaedo isseo
That sometimes makes me shy
근데 말이야 끌린단 말이야
geunde mariya kkeullindan mariya
But I'm attracted to you
거침없는 솔직한 너의 표현
geochimeopsneun soljikhan neoui pyohyeon
Your honest expressions, without holding back
자극한단 말이야 그렇단 말이야
jageukhandan mariya geureohdan mariya
It provokes me, it does
너와 같은 행동을 어느 순간부터 따라 해
neowa gateun haengdongeul eoneu sunganbuteo ttara hae
Now I'm following your actions
알고 보면 순진해 순수해 마성의
algo bomyeon sunjinhae sunsuhae maseongui
You're actually innocent and pure
매력 넌 LIKE A LOVELY FOX
maeryeok neon LIKE A lOVElY FOX
A devilish charm like a lovely fox
생각할수록 빠져들게 하는
saenggakhalsurok ppajyeodeulge haneun
The more I think about you, the more I fall for you
사랑스러운 너의 모든 것
sarangseureoun neoui modeun geot
Everything about you is lovable
시간이 지날수록 하나씩 늘어나는 너의
sigani jinalsurok hanassik neureonaneun neoui
As time goes by, your charms increase
매력에 이젠 내가 더 빠져들어버렸어
maeryeoge ijen naega deo ppajyeodeureobeoryeosseo
Now I've fallen even more for you
여우 같은 너 사랑스런 너
yeou gateun neo sarangseureon neo
You're like a fox, you're so lovable
LIKE A LOVELY LO-LOVELY
FOX I'M SO IN TO YOU BABE
나의 선택이 너라서 정말 난 행복해
naui seontaegi neoraseo jeongmal nan haengbokhae
I'm so happy my choice is you
함께 할 날들이 궁금해
hamkke hal naldeuri gunggeumhae
I'm curious about our days together
바라보기만 해도 생각하기만 해도
barabogiman haedo saenggakhagiman haedo
Just by looking at you, just by thinking about you
두근거리는 마음 전하고 싶어
dugeungeorineun maeum jeonhago sipeo
My heart pounds and I want to tell you
알고 보면 순진해 순수해 마성의
algo bomyeon sunjinhae sunsuhae maseongui
You're actually innocent and pure
매력 넌 LIKE A LOVELY FOX
maeryeok neon LIKE A lOVElY FOX
A devilish charm like a lovely fox
생각할수록 빠져들게 하는
saenggakhalsurok ppajyeodeulge haneun
The more I think about you, the more I fall for you
사랑스러운 너의 모든 것
sarangseureoun neoui modeun geot
Everything about you is lovable
시간이 지날수록 하나씩 늘어나는 너의
sigani jinalsurok hanassik neureonaneun neoui
As time goes by, your charms increase
매력에 이젠 내가 더 빠져들어버렸어
maeryeoge ijen naega deo ppajyeodeureobeoryeosseo
Now I've fallen even more for you
여우 같은 너 사랑스런 너
yeou gateun neo sarangseureon neo
You're like a fox, you're so lovable
LIKE A LOVELY LO-LOVELY
FOX I'M SO IN TO YOU BABE