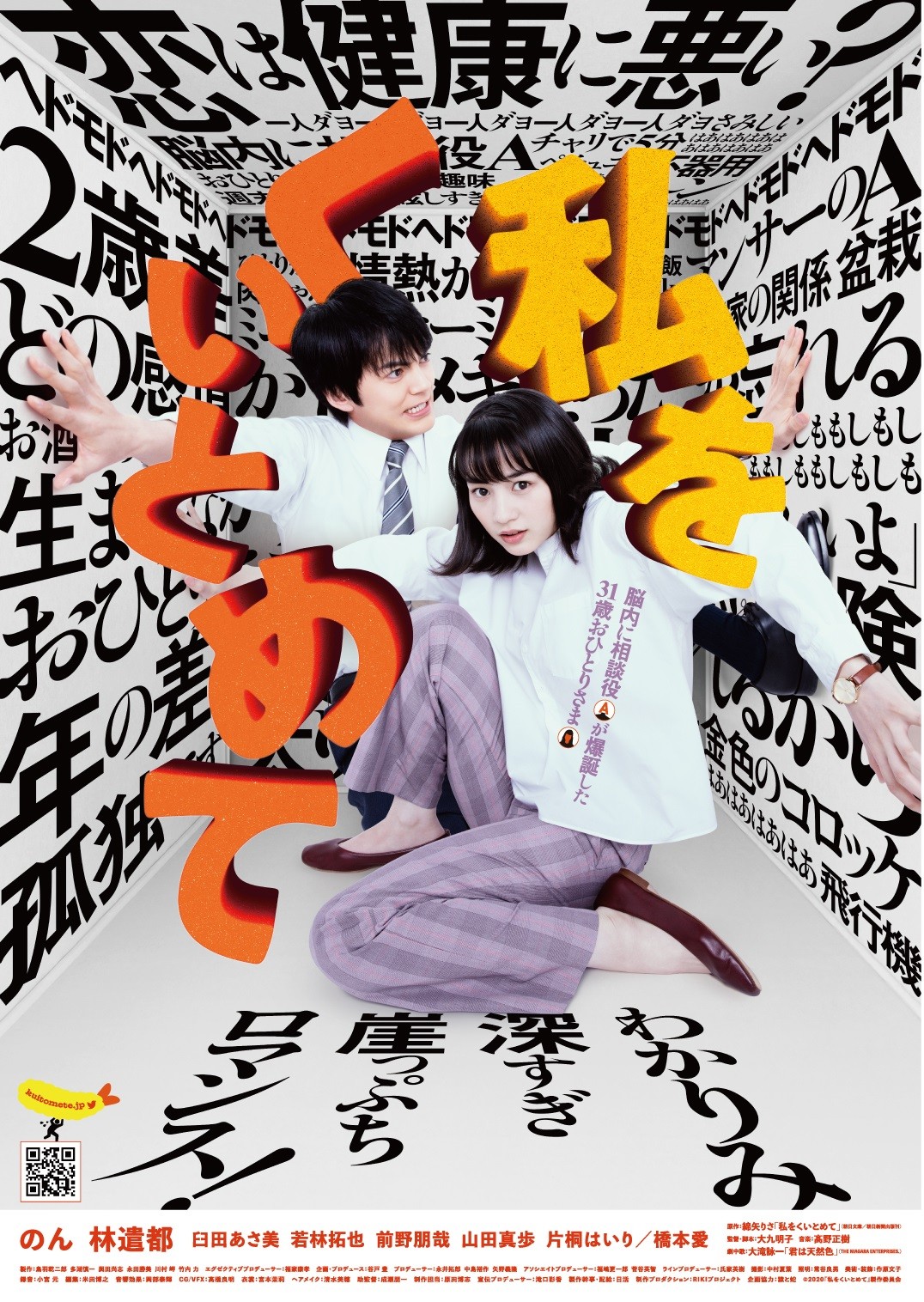 I.
Introduction
Adapted from the novel Watashi o Kuitomete by Risa Wataya, Hold Me Back is a 2020 Japanese romantic comedy both written directed by Akiko Ohku &, Risa Wataya. It starred Non (Nounen Rena), Kento Hayashi, Asami Usuda, Ai Hashimoto &, many more. It was released in Japan on December 18, 2020 through Nikkatsu &, premiered at Tokyo International Film Festival on November 5, 2020. It's currently currently available on Rakuten Viki.
II.
Synopsis
Mitsuko Kuroda (Nounen Rena) is 31-years-old and lives alone and is very happily single. She enjoys every moment of her life alone – but she never really feels alone because she has developed an alter-ego named A (Tomoya Nakamura) who dwells with her in her head. She has frequent conversations with A, who provides useful advice and sometimes berates her. Unfortunately, sometimes she has these conversations with A in public, leading to frequent misunderstandings.
But when she meets a younger man, a salesman named Tada (Kento Hayashi), she suddenly starts to question if her single life really is all that great. With A's advice – or perhaps despite it – she decides to explore her emotions for Tada, albeit in the most awkward manner imaginable.
III.
Cast
| Pic | Name | Character |
| --- | --- | --- |
| | Non | Mitsuko |
| | Kento Hayashi | Tada |
| | Asami Usuda | Nozomi |
| | Ai Hashimoto | Satsuki |
| | Takuya Wakabayashi | Carter |
IV.
Trailer
V.
Movie
VI.
Reception
Asian Movie Pulse has reviews Hold Me Back as - Akiko Ooku directs a film that could be described as Woody-Alenesque, particularly due to Mitsuko being a protagonist filled with neuroses, although with a distinct Japanese and female-oriented flavour. Particularly the concept of her speaking with A, who is essentially herself, provides the cherry on top of her quirky character, to the point that, in the beginning at least, her situation also seems to linger towards a psychiatric condition, although the director quickly takes care of erasing this notion. At the same time, this aspect also functions as a kind of narration for the movie, in an element that works quite well for the narrative and is also very original in the way it is implemented. Hold me Back has some issues, but the general sense it leaves is of a film that is rather smart in the way it presents its comments, while being quite entertaining on the way. It has gotten the scores of 7.5 on Rakuten Viki, 7.6 on Mydramalist, & 6.8 on IMDB.
VII.
Awards & Nominations
| Year | Award | Category | Nominee | Result |
| --- | --- | --- | --- | --- |
| 2020 | Tokyo International Film Festival | Audience Award | Akiko Ohku | Won |
| 2021 | Japan Movie Critics Award | Best Director | Akiko Ohku | Won |
| 2021 | Japan Movie Critics Award | Best Actress | Non | Won |