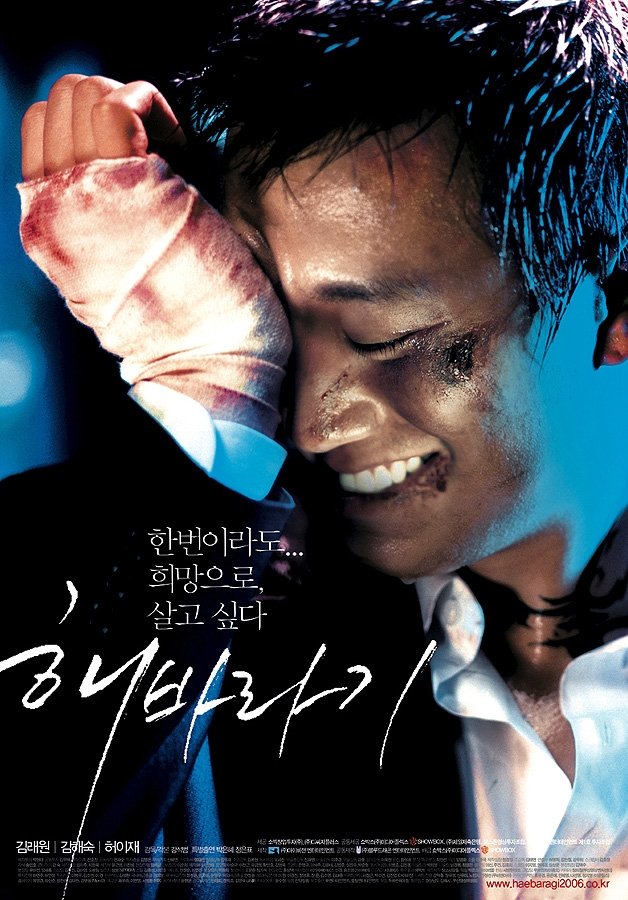 Title:- Sunflower (Hangul 해바라기, R. Romanization Haebaragi)
Director:- Kang Seok-beom
Country:- South Korea
Plot:- After spending 10 years in prison, former gangster Oh Tae-sik is released from prison as a changed man who wants to leave his past behind him. He returns to "Sunflower" restaurant owned by Choi Deok-ja and her daughter Hee-joo. Deok-ja considers Tae-sik as her son and despite Hee-joo not being as welcoming, the three of them start living together as an adoptive family.
10 years ago, Tae-sik was a troubled youngster, had dropped out of high school and along with his lackeys Yang-ki and Chang-moo was constantly involved in gang fights. When Choi Do-pil, a local mob leader, along with his henchmen attacked Tae-sik with intent to kill him, Tae-sik ends up killing Do-pil and is sentenced to 10 years in prison. During his prison term, a new mobster Jo Pan-soo has taken Yang-ki and Chang-moo under his wings and together they now control the area. Tae-sik, now determined not to stray down the path of violence again, starts working at a local garage and enrolls in English course with hopes of going to college . He carries a small notebook, given to him by Deok-ja in one of the prison visits, where he has writen down all the things he wanted to do when he got out of prison and starts fulfilling them one by one. One day Hee-joo finds out that Tae-sik was the one who killed her brother Do-pil. Deok-ja explains to Hee-joo that she had decided to forgive Tae-sik when she saw how remorseful he was and realised that he was a good person at heart who deserved a second chance. Hee-joo decides to forgive Tae-sik as she remembers how her brother always used to beat her mother for money and how now her mother was happy with Tae-sik.
However, trouble soon finds Tae-sik when Jo Pan-soo, now a city councilor with ambition to one day become a mayor, wants to knock down their family restaurant to build a shopping mall and a nightclub. Pan-soo uses Yang-ki and Chang-moo to accomplish the task. However, both of them are still fearful of Tae-sik's reputation thus are unable to force the restaurant to shut down. Deok-ja goes to visit Pan-soo and reveals that she knew that Pan-soo was the one who had given the order to her son Do-pil to attack Tae-sik to bring both of them down. She shows Do-pil's diary as proof and warns Pan-soo to leave Tae-sik alone. In retaliation, Pan-soo orders Yang-ki to kill Deok-ja. Hee-joo is assaulted with a brick by a rookie from Pan-soo's gang with an unrequited crush on her. This ultimately leads Deok-ja to prioritize the safety her family and the family decides to leave the town. However, Deok-ja is killed by Yang-ki who stages it as suicide. Tae-sik soon finds out the truth about Deok-ja's death. Distraught, Tae-sik goes to confront Pan-soo, Yang-ki, Chang-moo and their gang at the newly opened nightclub. He ends up defeating everyone and apologizes to his adopive mother and sister as the fire engulfs the nightclub.
Cast:-
Kim Rae-won as Oh Tae-sik
Kim Hae-sook as Choi Deok-ja
Heo Yi-jae as Hee-joo
Kim Byung-ok as Jo Pan-soo
Box office:- In South Korea, the movie had 1.5 million total admissions with total gross amounting to US$8.2 million.
Media:-
A clip from the movie
Content embedded from external sources will not be displayed without your consent.
Through the activation of external content, you agree that personal data may be transferred to third party platforms. We have provided more information on this in our privacy policy.