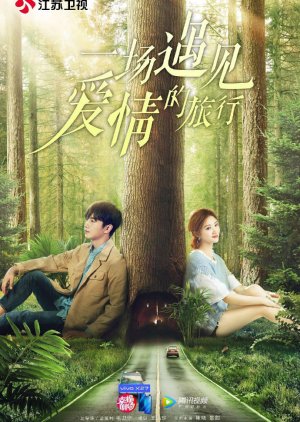 I. INTRODUCTION
Love Journey is a 2019 Chinese television series directed by Mao Weining, starring Chen Xiao and Jing Tian with He Minghan and Qin Shan. Partly produced by the Ministry of Public Security (China), the series is touted as the first "road-trip drama" in China. It started airing on Jiangsu TV and Zhejiang TV from April 20, 2019.
II. SYNOPSIS
Li Xin Yue is a white-collar worker under the watchful eye of the police after she goes out of her way to buy Dear, a painting by a renowned artist. Undercover cop, Jin Xiao Tian, is ordered to shadow her every move.
They both end up traveling to the heroine's hometown Shangri-La City, and fall in love with each other along the way.
III. TRAILER
Content embedded from external sources will not be displayed without your consent.
Through the activation of external content, you agree that personal data may be transferred to third party platforms. We have provided more information on this in our privacy policy.
IV. RATINGS
2019.4.20
0.756
2.9
3

0.696

2.65

4
2019.4.21

0.723

2.68

5
0.741
2.75
4
2019.4.22
0.778
3.01
4
0.753
2.9
5
2019.4.23
0.831
3.19
5
0.851
3.26
3
2019.4.24
0.942
3.59
2
0.9
3.42
4
2019.4.25
0.902
3.48
4
0.926
3.62
2
2019.4.26
0.969
3.58
2
1.007
3.69
1
2019.4.27
0.97
3.45
2
0.93
3.3
3
2019.4.28
0.89
3.22
3
1.008
3.65
2
2019.4.29
0.997
3.74
2
0.949
3.56
4
2019.4.30
0.921
3.47
5
0.983
3.7
3
2019.5.1
0.791
3.13
4
0.906
3.59
2
2019.5.2
0.826
3.32
4
0.964
3.88
2
2019.5.3
0.813
3.17
4
0.997
3.93
3
2019.5.4
0.933
3.45
3
0.9
3.31
4
2019.5.5
1.11
4.09
3
0.91
3.35
4
2019.5.6
1.019
3.74
2
0.964
3.54
3
2019.5.7
1.043
3.78
2
0.99
3.59
4
2019.5.8
1.034
3.92
4
1.005
3.81
5
2019.5.9
0.963
3.74
3
1.056
4.1
1
2019.5.10
1.011
3.93
3
0.994
3.93
4
2019.5.11
1.043
4.36
1
0.907
3.77
4
2019.5.12
1.113
4.21
1
1
3.78
4
2019.5.13
1.033
4.02
2
0.899
3.5
4
2019.5.14
1.121
4.29
2
1.036
3.96
3
2019.5.15
1.124
4.36
2
1.011
3.91
3
2019.5.16
1.02
4
3

1.214

4.76

1
2019.5.17
1.247

4.74

2
1.017
V. AWARDS AND NOMINATIONS
| | | | |
| --- | --- | --- | --- |
| Golden Bud - The Fourth Network Film And Television Festival | Best Actor | Chen Xiao | Nominated |