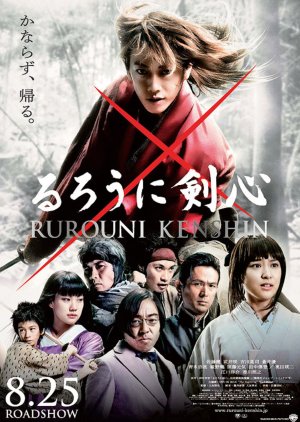 I. INTRODUCTION
Rurouni Kenshin (also known as Rurouni Kenshin: Origins in North America) is a 2012 Japanese period action-adventure film based on the manga of the same name written and illustrated by Nobuhiro Watsuki. Directed by Keishi Ōtomo, the film stars Takeru Satoh and Emi Takei. It focuses on fictional events that take place during the early Meiji period in Japan, telling the story of a wanderer named Himura Kenshin, formerly known as the assassin Hitokiri Battōsai. After participating in the Bakumatsu war, Kenshin wanders the countryside of Japan offering protection and aid to those in need as atonement for the murders he once committed.
II. SYMOPSIS
Former legendary assassin, Kenshin Himura, has now become a wandering samurai. Offering aid and protecting those in need as atonement for his past deeds. During this time, he comes across and aides Kaoru Kamiya. Her father opened the Kamiya Kasshin-ryu, a Kendo school located in Tokyo, and Kaoru is now an instructor there. Kaoru then invites Kenshin to stay at her dojo. Their relationship develops further, but Kenshin is still haunted by his violent past.
III. TRAILER
Content embedded from external sources will not be displayed without your consent.
Through the activation of external content, you agree that personal data may be transferred to third party platforms. We have provided more information on this in our privacy policy.
IV. RECEPTION
Rurouni Kenshin was theatrically released on August 25, 2012, in Japan, grossing over $36 million domestically and over $60 million worldwide as of November 2012. The film was licensed for distribution in over 60 countries in Europe, Latin America and Asia.The movie premiered in North America as an opening selection for the 2012 LA EigaFest on December 14, 2012.