Haruna from SCANDAL did an interview with KKBOX, was asked about Kpop and half of the interview became about it
(she also shared her playlist)
TL: thoseguiltyeyes from Scandal-heaven
KKBOX | What HARUNA considers as blissful time off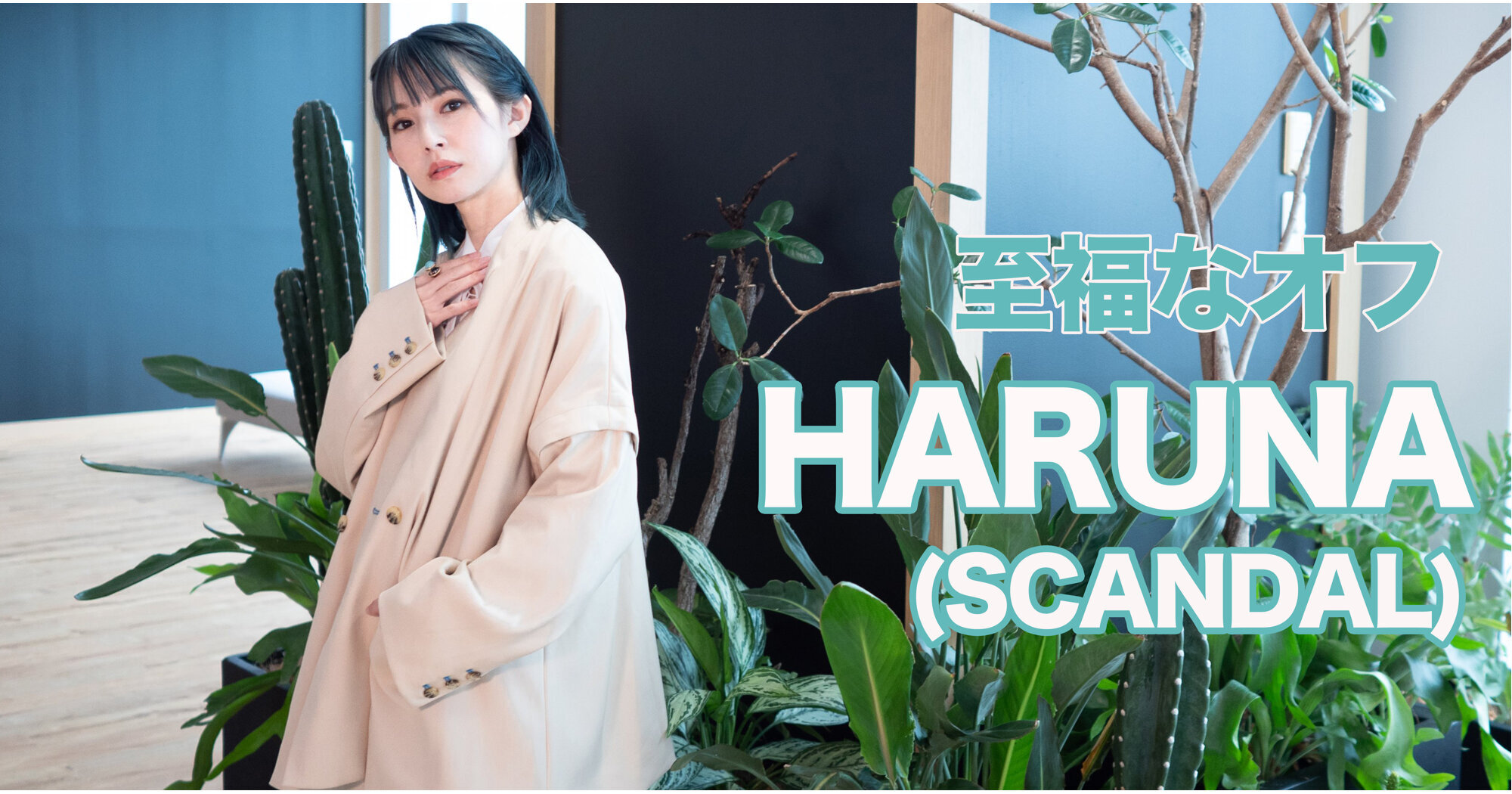 This "Blissful Time Off" series peeks into musicians' "on" and "off" times. We not only touch upon topics such as works created during their "on" mode, but also how they spend their time off, the care they take with their casual clothes, and the music they listen to during their "off" mode.
Our guest this time is vocalist and rhythm guitarist HARUNA of Japan's leading all-girl band SCANDAL. The band celebrated their 15th anniversary in 2021. On September 29th, they released their new song "one more time" that represents who SCANDAL currently is. We asked her not only about her fashion during days off or the music she listens to, but also about the production of songs made during her "on" time that makes use of HARUNA's "blissful time off." We bring to you HARUNA as she naturally is, and the side of her that can only be seen now after celebrating the band's 15th anniversary.
What do you wear on days off?
──You changed your hair, right? It really suits you.
HARUNA: Thank you very much. I went blue for the first time to go with the vibe of our new song.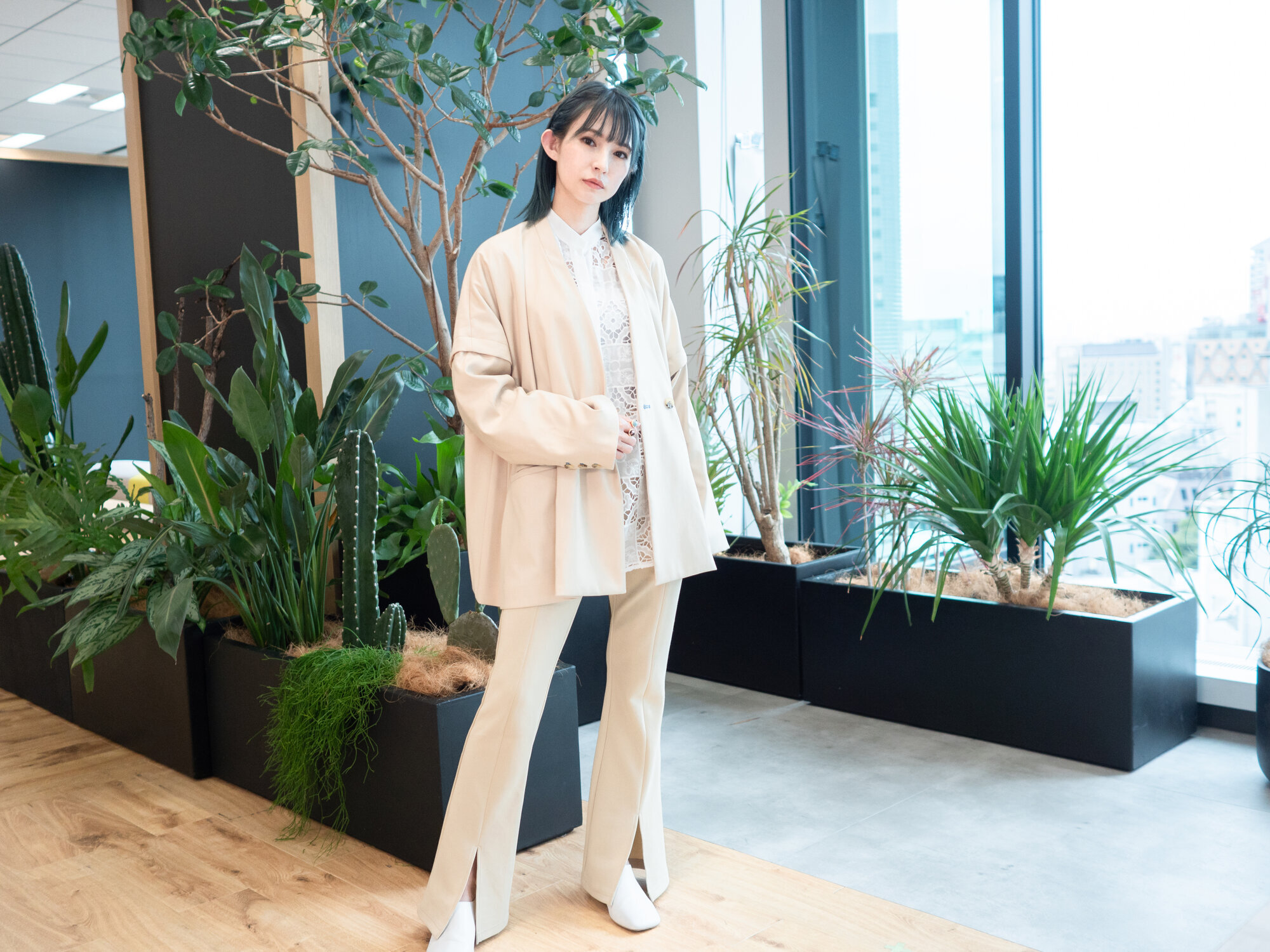 ──Is your outfit today a matching set?
HARUNA: It's actually not. I had a jacket that I recently bought when I wanted something that I could wear for autumn, and I had pants in the same color, so I tried going for a matching look (laughs). I try to wear outfits that are fairly balanced since I'm short and slender. I chose tight-fitting pants because the jacket is loose-fitting. When I wear something tight on top, I wear something loose on the bottom.
──Being mindful of your height, does that mean you're also particular about shoes?
HARUNA: I tend to wear ones that have height. Today, I'm wearing high-heeled white boots. For rehearsals or other occasions where I can be more laidback, I wear chunky shoes like wedge sneakers or dad shoes.
──You're quite conscientious about your overall silhouette.
HARUNA: I care about things like balance. If I just throw on any sort of clothes, I end up looking like a little kid. I also care about my haircut because I'm mindful of my height. I feel that I look more balanced overall when I have short hair. But because I've been wanting to grow my hair out again recently, I'm currently growing it out (laughs).
──I totally understand getting bored with keeping it the same length for a long time (laughs). Next, please tell us the key point of your outfit today!
HARUNA: That would be the lace shirt I'm wearing. I often wear things that are sheer.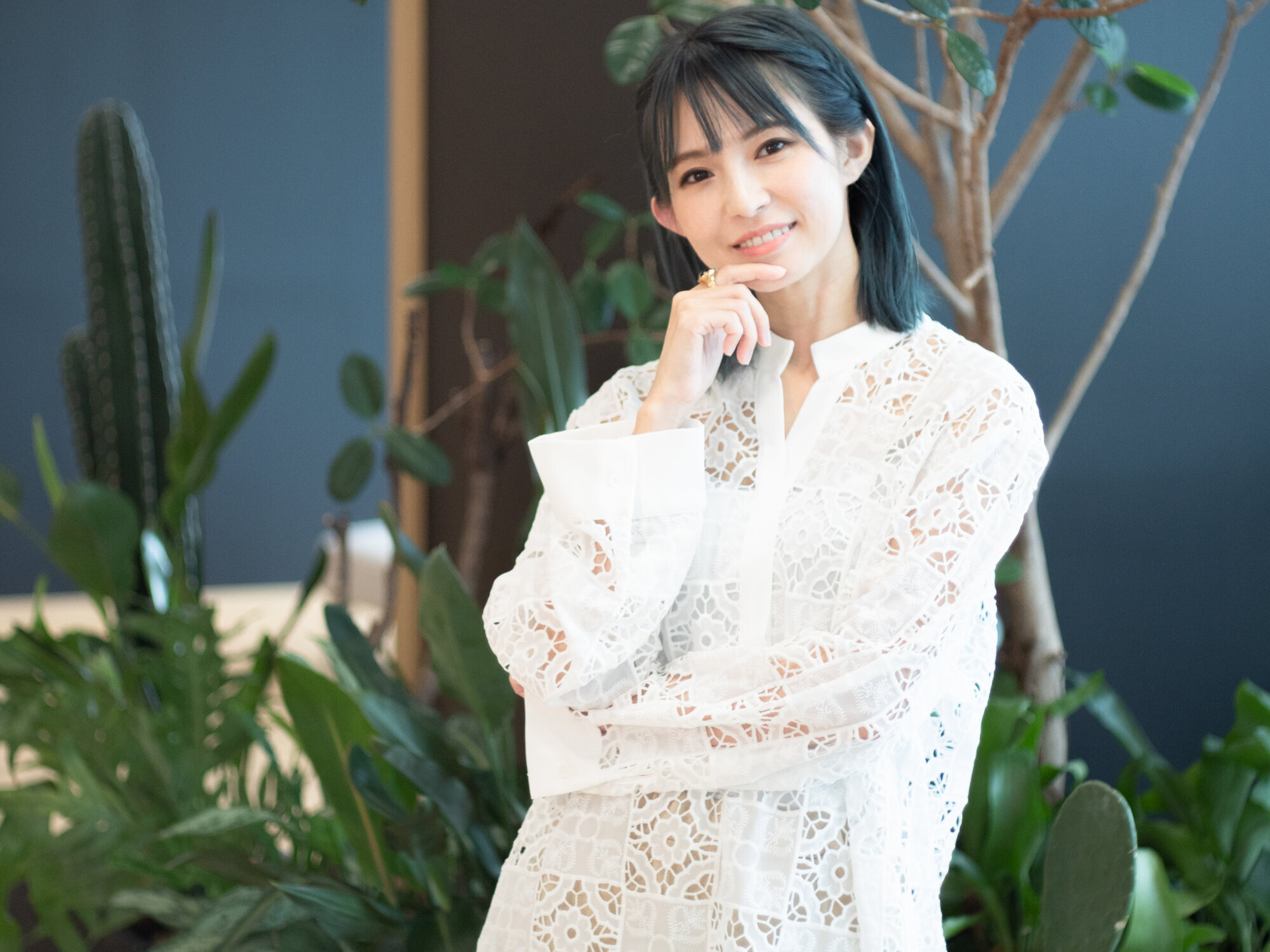 ──Your ring is also adorable. Designs like that, where it looks like two rings are attached to one, are interesting.
HARUNA: This was a birthday present from a good friend. I don't usually wear a lot of accessories, but when I do feel like it, I like to wear statement pieces. Since I like stones, I tend to only choose accessories with stones. I'm wearing this turquoise ring given to me by my friend who understands that.
──Do you have any favorite clothing or accessory brands?
HARUNA: I haven't really paid attention to brands recently. Instead of spending money on each individual item, I've moved toward choosing items that are reasonably cheap, can be used for a long time, and have a good price–performance ratio. By the way, the clothes I'm wearing today are from Zara.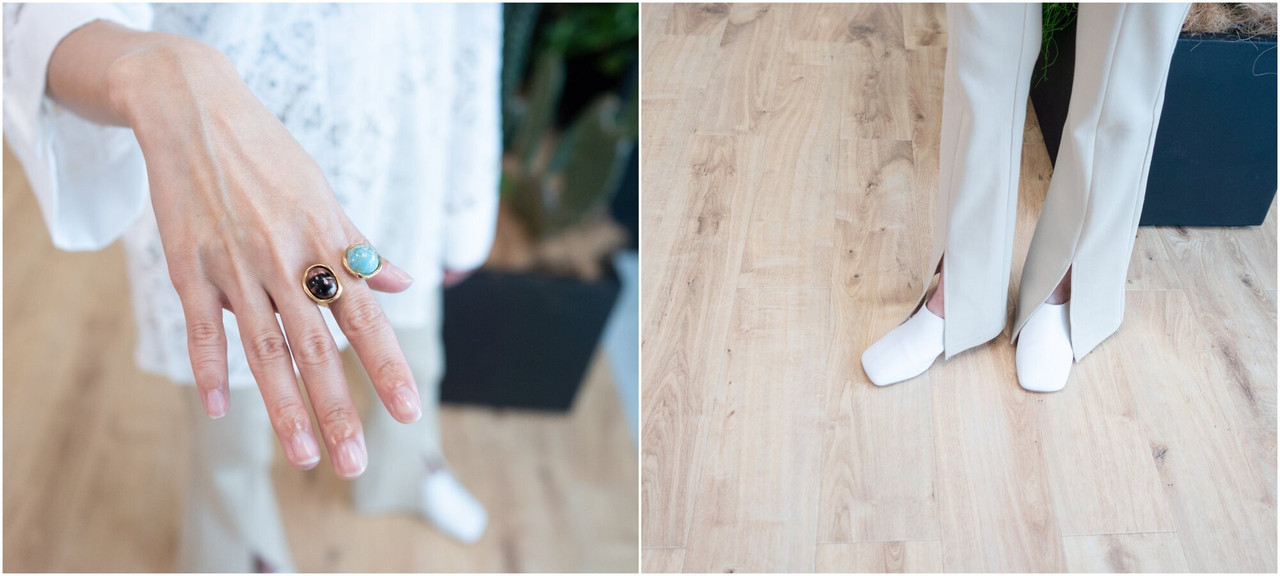 ──What kind of clothes do you often wear on completely off-days such as holidays?
HARUNA: On days when I'm completely off or just for rehearsals, I oftentimes wear hoodies and casual clothes. For work such as interviews or shoots, or for other kinds of work, I choose clothes based on TPO (time, place, occasion).
What do you do on days off?
──What have you been doing on days off recently?
HARUNA: I've been doing "oshikatsu" and "oshikoto" (both refer to doing activities for the things that you like) for K-Pop groups. I've been completely immersed in K-Pop for the past year...... You do things like listen to your favorite groups' music, watch live videos or variety programs, invite your friends over for a viewing party.
──What made you get hooked on K-Pop groups?
HARUNA: I was hooked on K-Pop groups 10 years earlier as well, so from the start I've had the tendencies to get hooked on K-Pop (laughs). I was gradually becoming interested in BTS before the pandemic began, and I also started watching [the competition show] Nizi Project. I liked the K-Pop songs from groups like TWICE and ITZY that were used in the show, and I started listening to and watching all kinds of groups. Also, around that time I had gotten a message from my friend who knows I was hooked on K-Pop before, and as if pouring salt into a wound, they said, "I've been addicted to BTS recently. Do you not like them?" (laughs). So when I started looking into it all, I ending up getting obsessed (laughs).
──The different timings overlapped pretty well (laughs). What groups in particular do you like?
HARUNA: BTS is of course one of the reasons why I got hooked on K-Pop......but I have a lot of favorites. I'm currently in the fan clubs for BTS, ENHYPEN, NCT, and TOMORROW X TOGETHER (laughs).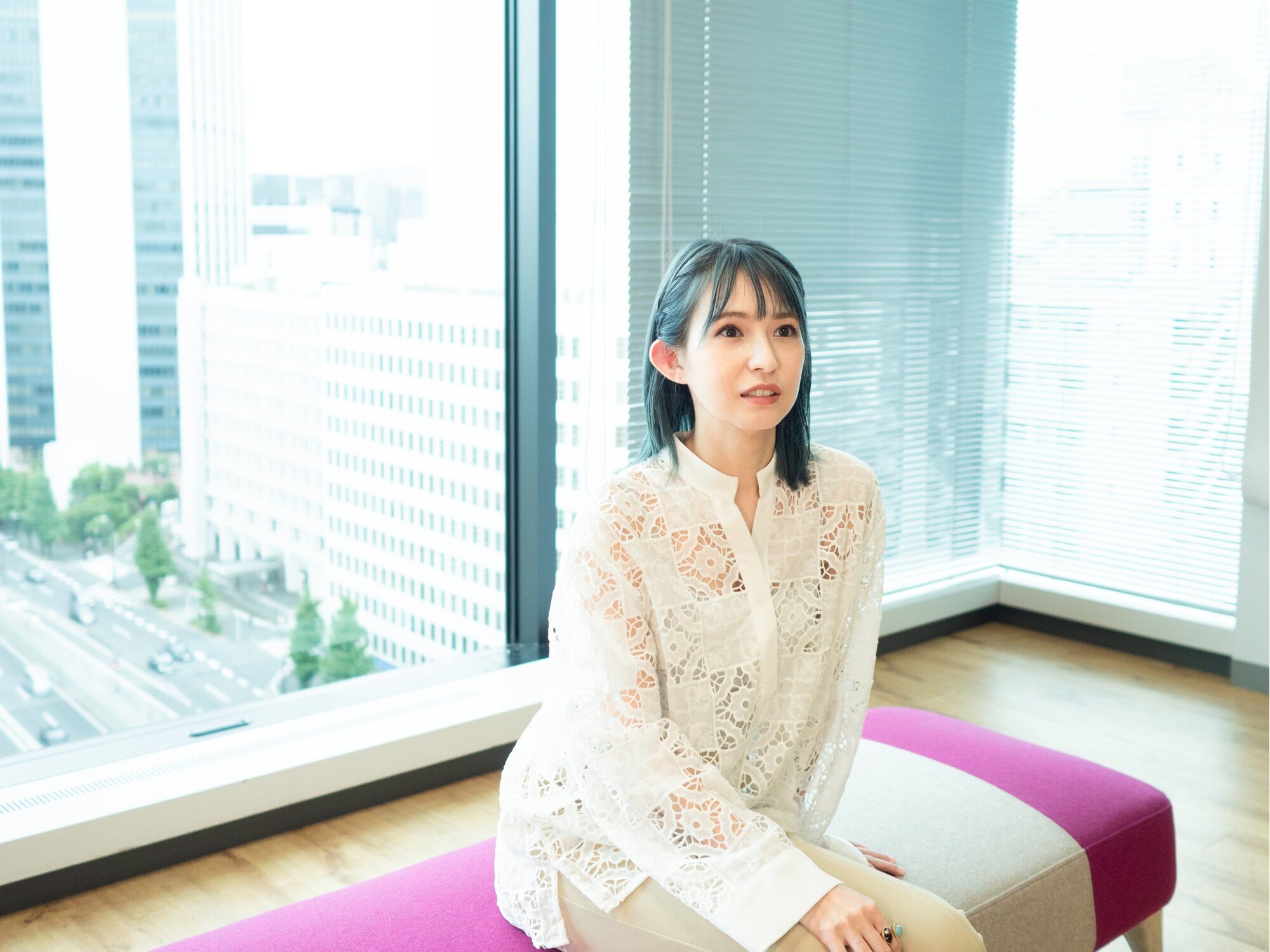 Right now in particular I'm stanning WayV, one of NCT's sub-units. WayV mainly consists of members from China and most of their songs are in Chinese—they're in the so-called C-Pop genre. It's fun because you get to learn about new genres by way of various K-Pop groups.
──Having so many favorites would make "oshikatsu" difficult.....
HARUNA: It is difficult! There are new things from someone every day, and that's enough to live off of (laughs). Regardless of my off-days, I don't have enough time if I don't do some kind of support. Like, I got an email newsletter the moment this interview began.
──Are your band members aware that you're addicted to K-Pop?
HARUNA: That's just it—because MAMI got hooked on K-Pop at the same time, we're constantly exchanging info. MAMI's also in some fan clubs and sometimes likes groups different from the ones I like, so I've learned all sorts of things (laughs).
What music do you want to listen on on days off?
──Your "Music I Want to Listen to on Days Off" playlist is also wonderfully full of K-Pop songs (laughs).
HARUNA: I thought it would be better to choose songs from different genres, but I simply picked the music I listen to on my days off. When it comes to expressing who I am right now, it's only K-Pop! Sorry for putting what I like on full blast (laughs).
──Would you say that you put MAMAMOO, who are leaders of the girl-crush concept, on the list because you understand what they're about? I feel that SCANDAL has some similarities to them, including their stance against lookism and their "If I don't meet this era's standards of beauty, I'll be a different standard" concept.
HARUNA: I didn't do so with that in mind. I just think they're cool and I love their makeup and outfits. However, those values may also be relevant to us as well. I think it's better to express what you like and enjoy in a straightforward way, rather than expressing something because you care about what others think. I want to live my life valuing the individuality and humanity of each of us. That's something the band recently realized, so we try to incorporate it into our songs, artwork, makeup and outfits. That's why I really sympathize with the idea of MAMAMOO.
──Is there something that you've become aware of recently?
HARUNA: There was a moment when I felt that we weren't being viewed as women in our 30's even though we are in our 30's, because we had been doing our activities without dispelling the impression we had when we made our debut. No matter what, the "school uniform-wearing, long black-haired" image would come first. So, no matter how much music we made that was true to ourselves, I felt that we couldn't deliver what we wanted to convey due to the influence of that deep-rooted image. When I wondered why we couldn't get rid of that image, I realize that one reason might have been because we didn't show our private lives. I felt the merits of not conveying what we think or feel, such as tough or fun things. We have the same feelings and thoughts of those our age, but if we don't show that side of our daily lives, our lyrics—no matter how much work we've put into them—won't reach people.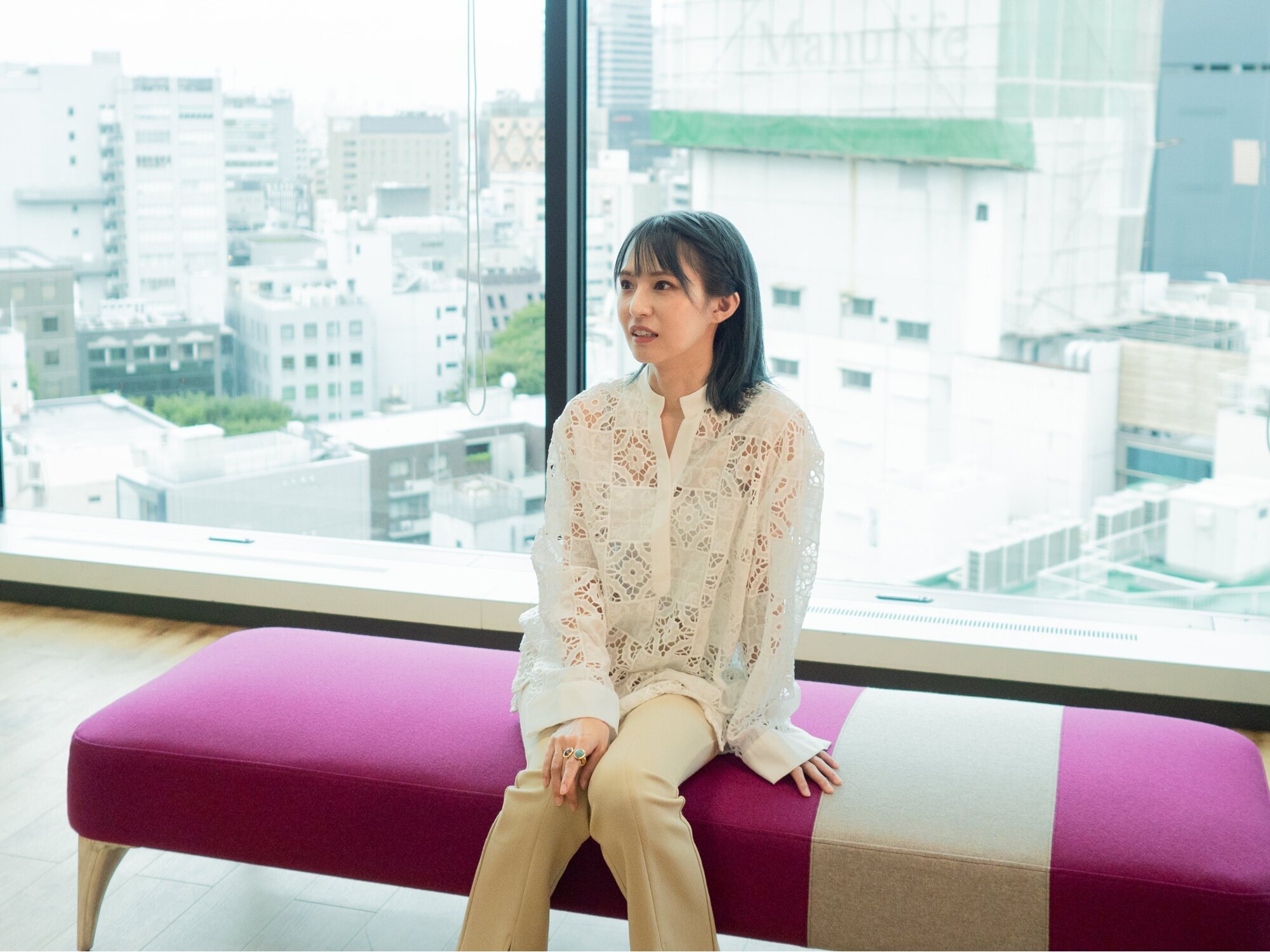 Starting from our album Kiss from the darkness released in 2020, we've come to express ourselves with words and send them out to everyone. We're saying that we get hurt, get sad, get lonely, feel happy, and have fun just like everyone else. We're working on all kinds of things with the awareness of wanting everyone to know that we're human just like them.
──By talking about your biases on Twitter, is your aim to show your "humanity"?
HARUNA: That might be a part of it. Talking about your biases is a very personal thing, but liking groups is part of who I currently am. I don't share things with the aim of "I need to show my humanity!", but if I want to talk about my biases then I just do so! And by doing so, I also get fans saying things to me like, "I like the same artists," or, "I'm happy that my bias (HARUNA) has same bias (K-Pop group) as me." By sharing my interests, I'm happy that they're able to feel closer to me.
(interview continues...)