Do you think Mina was bullied by Jimin?
56
TW// Recently people have been digging into the AOA's bullying case more and more, and not because they hate any of the members. But, if you're a person after the simplest conclusion you would just read everything Mina wrote.
You know the T-ARA case right? Only the people who have experienced this scandal decided not to take sides between Mina and Jimin and just wait for more information rather than jumping on hate bandawagons as if they've made it confirmed.
"How Mina assa///nated AOA Jimin's reputation" I believe it's a solid analysis (plus it makes sense), to back up Jimin from not have thrown Mina in a closet, or not have allowed her to see her father because of promotions, or bringing men to the room she and Jimin supposedly shared together and etc. These are basically the only claims she's made against Jimin except the whole paragraphs of "My hands sweat whenever I see her", "I felt throwing up" etc… in short emotions to make people feel bad for her and blame it on Jimin.
The YouTuber isn't the only person talking about this situation, Eliza Seid, and a5aforever on Instagram were one of those accounts there who started digging and telling people she wasn't truthful. They even got noticed by Mina when Mina called them a dog and told them to find the proof themselves before getting blocked.
The thing is, they were an Elvis for more than a year or two, unlike most of you who have just heard a story. Elvises, AOA's fandom, are aware of how many members were absent and present during "Like a cat" era, you probably don't, unless you've done some research.
There's also many threads on Twitter talking about it :
For better understanding let me break Everglow's point into pieces :
1- Mina saying she was not allowed to take care of her father and was forced to follow every AOA schedule because of comeback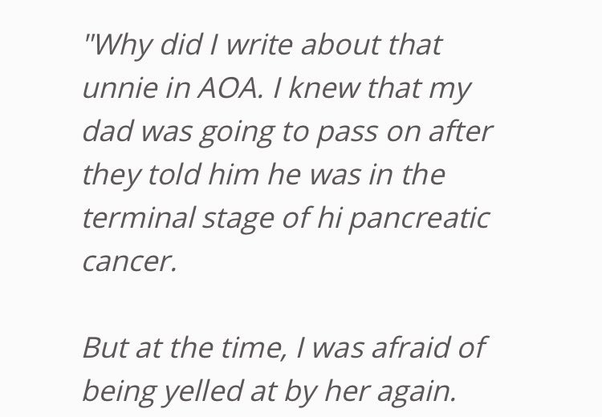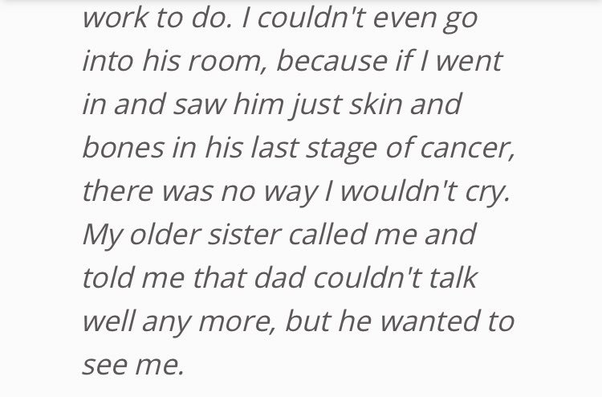 It feels like reading a roman or a novel cause as far as we all know she got a whole month of absence.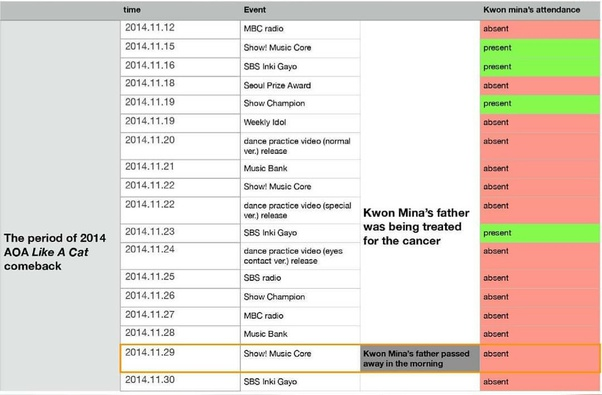 Doesn't this make sense enough to say Mina were not present in promotions ? She was absent even the day her father passed away.
Mina complained about Jimin and FNC for not have allowed her to see her father because of promotion, but it turned out she had a whole month.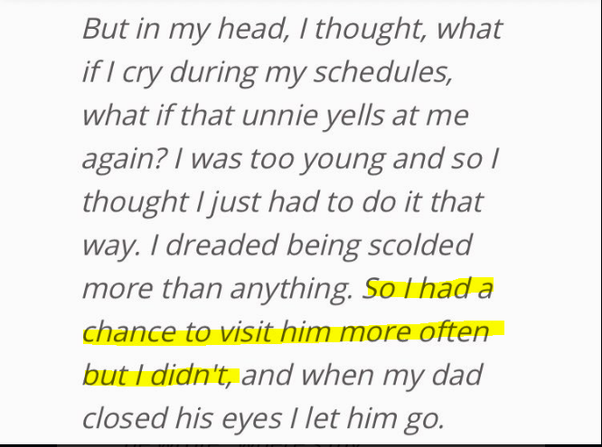 She even herself said in her own statement "I got the chance to see my dad often but i didn't" ! If you had the chance to see your father why didn't you see him then? Where were you when you were supposed to be with your father when FNC withdrew you from most promotions and comeback stages?
Normally, people get only 3 days, or maybe a week. But Mina got a whole month! Jimin herself only got half the time Mina had when she lost her own father. Why complain to the company when they've given her free from her work and promotions? Why ask for an apology when they've given her the chance and time to focus on her father's health?
Let's extend the answer with these stages of "Like a cat" without Mina :
6/7 members present
She didn't attend the dance practice video so 6/7 again
6/7 members, and this was in December not November so where where Mina then? On her break after her father passed away.
We coud continue... and that was only one lie.
2-Jimin unnie threw me in a closet and told me to stop ruining the mood when I was crying because of my d**d father/could d*e father

You get the lie pretty much in her own sentence, and yet most fell for her :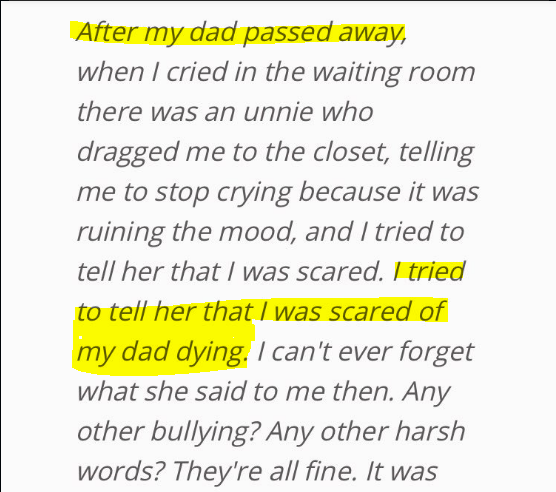 And here is where we get minapulated.
You're too focused on Mina saying "I tried to take my own life because of her", "She threw me in a closet", "She said those harsh words" that you completely read over the part where she couldn't follow her own lies straightly.
Did she throw Mina in that closet before OR after her father passed away? A question you should take in instead of some of those nonsense.
3-Mina complaining about Jimin's father getting a VIP room while her father d*ed in a normal hospital room

Why should you be mad about that when Jimin's father himself have the money to afford it? Plus another lie.
Jimin's father didn't die in a hospital room, his d//th was sudden, he was not locked in a hospital room, I don't know what Mina is trying to say here.
I think she meant : VIP funeral service
Then why complain about the hospital room your father was in when Jimin's father didn't even use a single hospital room? About the VIP funeral service, Jimin's father was a wealthy person who could afford that. Mina's family ain't that wealthy so if they won't be able to afford a VIP funeral service that's totally on themselves not Jimin, not FNC, not AOA. They'll do the ceremony however they're able to do so. If Jimin's father is able to do that why get mad?
"FNC payed for it" there's no single proof nor statement from neither Jimin nor AOA nor FNC. Plus she wasn't even there, she left the group.
About Jimin's father, he went to Hwimoon high school which is one of the most prestigious private schools in SK. An old Emperor King Gojong from the period of "Juseyon" which was old Korea in history have named that high school themselves so obviously Jimin father's family was pretty much a wealthy family who were able to send him on such private school.
Here are the proofs :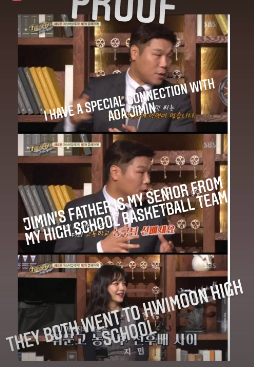 You know Seo Janghoon?
Jimin's family is able to afford this much money. Jimin's father going to an extraordinary and famous prestigious private school, Jimin studying abroad China of course they will be able to pay for a VIP funeral service. He also knew and were surrounded around many celebrities.
What Mina is doing here is highly disrespectful. She's slandering Jimin's passed away father by saying nonsense like "FNC payed for his funeral service and gave them special treatment" when in fact they were able to afford all that themselves.
Even if Mina is depressed, mental broken, hates Jimin, wants her d//d, excluded from her life etc. she is not allowed to judge anyone by using their father's d//th that's not acceptable.
3-Jimin bringing men to their shared room throwing Mina out so she can get loud in peace. Mina ended up having to sleep in the training room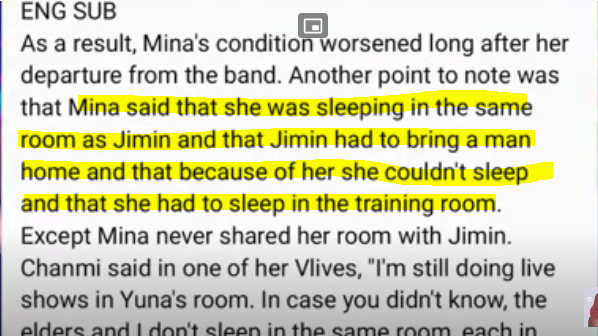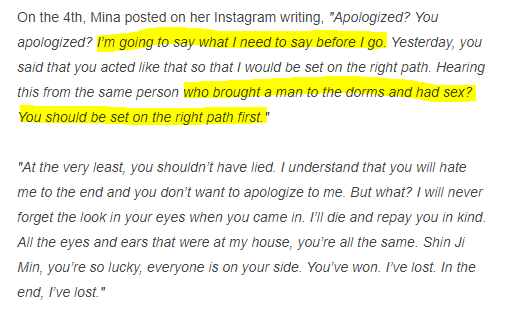 "You should be set in the right path first", so having s/x is wrong in her book now? That's why Mina took the STD test right?
The younger members and the older members never and never even once shared rooms together!
Proof is Chanmi's Vlive from a few years ago where she talked about their dorm and how the younger members and the elders didn't sleep together in the same room.
Or you can read this article :
https://aceofangelsnation.word...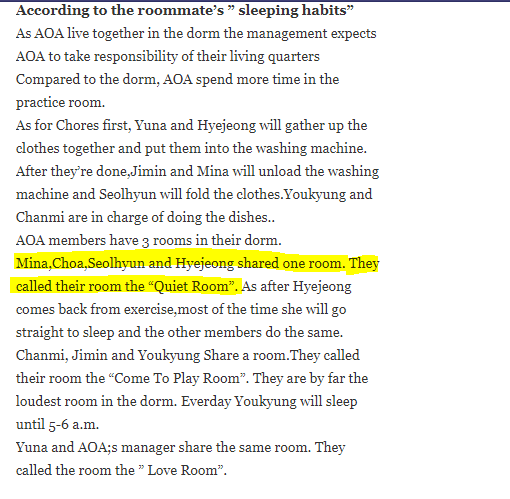 Jimin allegedly was seeing men in her own room so how could she not sleep when Mina was in her own room and Jimin was in her own?
You couldn't have heard her unless you peaked from behind the door of course....
Also even if Jimin brought men to the dorm, how is that close to bullying when she wasn't even in their business or thrown out of her "shared room" ? She can't lie properly.
4-Jimin criticizing her singing one time for recording.

A person who have only attended 3 vocal lessons in 7 years is expected to not get criticized ? And that by their own leader? Of course seniors will come at her asking her how many vocal classes did she has in all.
Jimin is her leader, she is allowed to criticize especially if she see the need to. As for a person like Mina taking 3 vocal lessons in their entire life the company will tell her to get more practice.
Imagine, the other members who have worked hard for years and years, everyday! Here Mina admits that she only had 3 vocal lessons in all her 3 years of being a trainee and blames it on Jimin.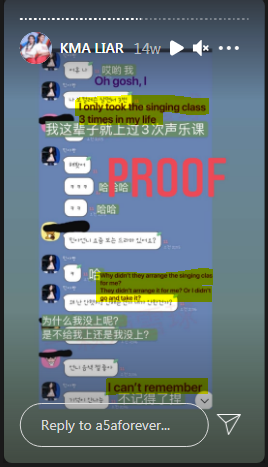 And Mina's response was "I can't remember", so she can't remember FNC offering lots of classes to attend besides rap classes but she herself decided to skip like the dance practice? Mina could decide to take those classes whenever she wanted to.
Even Chanmi, who was mainly a dancer and rapper have gotten vocal lessons and worked hard constantly. Why can't Jimin be mad?
PS: You don't have to agree with these. And I'm not gonna force anyone to do so. Cause at the end of the day opinions will matter more than facts, and people think in different ways. Some will consider feelings and completely skip read the victims statements while others will carefully look at them and do research on what they find.