BTS individual net worth has been around $20-22 million for at least 3 years now, but anyone can tell that's highly inaccurate. With all their new Hybe acquisition and Bang PD net with going up to $2.8 Billion (+$121 Million) I was interested to see what BTS true net worth could be.. (and because I'm bored) and it's clear in regards to Forbes they only know basic things in regards to BTS where with Bang Pd almost 95% of his net worth is is Stocks so it's easy to configure.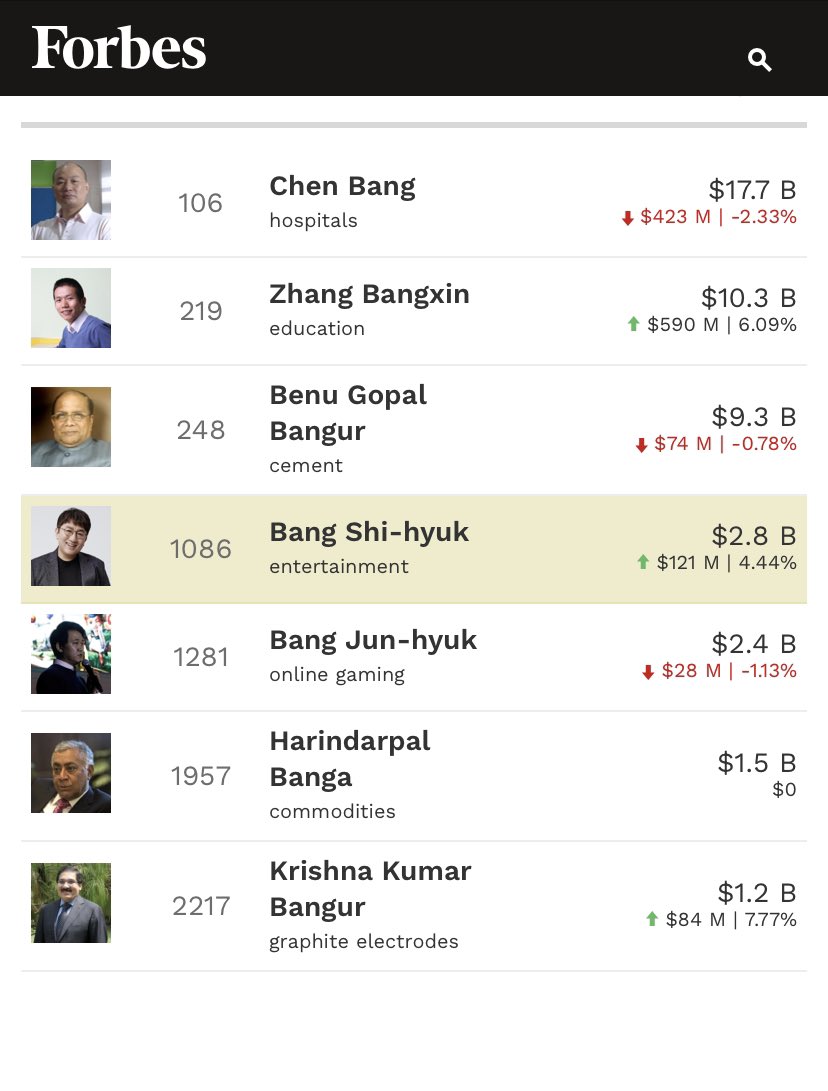 Ok so unlike western celebrities when they have major endorsements typically it's revealed how much they got paid but with BTS we never know.. what WE DO know is that their fee is around $2.59M- $4.91M per ad! My question is what does PER AD mean? Also it's safe to assume that global endorsements/ambassadorships are probably worth double or triple.. for instance Rihanna was paid $25M for her Samsung deal in 2015-2016, I would assume BTS would be paid similarly. Same with FILA which they have been globally endorsing since 2019.. we also don't know if they get residuals (meaning so they get a cut of revenue from the clothes/shoes they promote)
So with that being said.
STOCK
Each member PUBLICLY has 75,000 HYBE stock. The stock is currently being sold at 275 per share, which means Each member has a total of $20.6M in Hybe stock CURRENTLY and $143.3M combined. So unless BTS has never made any other money in their career then of course their current "net worth's" are wrong.
ENDORSEMENTS and Events
Like I wrote in the above BTS endorsements fee is around $2.59-$4.91M per ad! For sanity sake I'll just talk about endorsements from 2018-Present. So BTS has had around 41 endorsements since 2018.. 8 being BT21 related so if you want to merge those together you can.. these endorsements include both global endorsements like Samsung, FILA, LG, and Hyundai, and TINYTAN and korean deals like Lemona, Bodyfriend, Coway, Chilsung. As well as Games like BTS World and BTS UNIVERSE
So if we just do basic maths (just to simplify things) then BTS has made around $106,190,000M - $200,310,000M In endorsements! (Mind you these numbers don't include any residuals or take into considering some endorsements like Samsung/FILA/Tokopedia might in fact be more than $10-25M+, I just used the basic fee that we know)
After BH 30% cut
$74,333,000 - $140,917,000
SALES
BTS average album cost are $20 and they've sold around 33 Million albums in just Korea and Japan alone.. so about an average of $804M In album sales.. if the split sheet is to be believed, BTS get 50% of album sales and 70% of repacking but they don't really do repacking since 2017 and just to make things simpler I'm omitting that... we know BTS has definitely made more that $804 from album sales as MOTS7 , MOTS7J, and BE alone makes half of that in 2020 alone.
So $402,000,000 from album TOTAL over entire career sales. (Doesn't take distribution and producer/songwriters cut into account)
TOURING
From the Love Yourself Tour and some dates from Wings Tour they've grossed around $202,000,000 Million from touring in the last 3 years. If the split sheet is to be believed they get 70%
So around $141.8M from ONE TOUR!
Mind you all these guestimations don't take into consideration distribution fees, vendors etc.
Merch Merch and More MERCH!
BH made $223.3M in Merch in 2020 alone during a pandemic. Let's say BTS gets 30%
$66.9M from Merch in 2020

So I guesstimate BTS COMBINED current net worth to be around (I know this seems a lot)
$828,333,000M - $894,914,000M (pre-tax)
So around $118.3M - $127.8M per member (doesn't considering copyright discrepancies between members or personal investments obviously) PRE-TAX
Korean Tax for people making 500M Won ($495K) is 42%
So after taxes each member would roughly have a net worth or how much they've earned of approximately almost 8 years in BTS is...
$61,516,000M - $74,150,000M
Also Hybe is currently valued at $9Billion
Yes it's lower than their western counterparts who they are outselling but you have to take into consideration that BTS has give Hybe a cut and then split 7 ways on top of paying taxes.
I think my guestimations are reasonable. Using Adele as an example she has released 3 albums.. haven't released an album since 2015. But has a networth of $190M .. she's sold 60M albums pure sales.. but her albums were sold significantly lower than BTS (around 13.99-15.99) and her main tour Adele Live 2016 grossed $167.7M, she doesn't sell Merch or do endorsements. So her networth is almost $200M from mostly SALES ALONE.
Also even though it may seem that a lot of western artist are making way more, you have to remember that unlike kpop where the labels pay for everything with their cut.. western artist are responsible for paying their own staff, security, on top of paying BOTH their labels and management!