Position: Rap, beat box, backing vocals, greeting fairy, aegyo
Japanese Birth Name: Kanemoto Yoshinori (金本芳典)
Birthday: May 15, 2000
Horoscope: Taurus sun, Libra moon
Chinese Horoscope: Dragon
Life Path Number: 4
Blood Type: A
Height: 179 cm (5' 10")
Languages: Japanese, Korean, English
Hometown: Kobe, Hyogo Prefecture, Japan
Nickname: 파괴왕 (destruction king, destroyer)
YGTB Trainee Group: J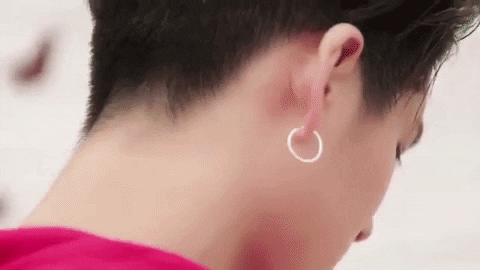 Info:
He has three older sisters whose Japanese names all start with a "M."
His father passed away when he was in the 7th grade (YGTB Ep.6).
His family has a dog named Carol which he likes to call Caroli. (Treasure Map Ep. 10) Carol's official owner is one of Yoshi's two eldest sisters.
He auditioned for YGEX (aka. YG Japan, Avex+YG) in March 2016 at an Avex Artist Academy. (YGTB Ep. 6)
He spent about 2 years as a YG Japan trainee before Treasure Box aired.
He was eliminated from YGTB in Ep. 9.
He studied both English and Korean in secondary school (from 7th-10th grade)
He went to two different schools for high school. In 10th grade he attended the Korean International School in Ibaraki, Osaka Prefecture. (You can still find some of his pictures on their Facebook though many folders have been removed or privated since 2019.) For the remainder of his high school years he attended the same high school as Mashiho in Tokyo.
He passed the Korean GED in 2020. It was reportedly his first attempt.
His first known appearance on TV was at age 10 with his taekwondo club on Asahi Broadcasting Corporation. (The YouTube video has been since been taken down by Asahi Broadcasting Corporation. The clip still exists where I originally found it but I am not going to post the link. I don't want it taken down.)
Yoshi was regionally competitive in taekwondo. He continued taekwondo for the first few months he was a trainee. He was already a YG trainee in the second picture below.
His middle school was featured on EBS News Korea when he was 15. (Yoshi has Korean ancestry but grew up in Japan. In both a 2020 Newsen interview and a 2022 1theK video, Yoshi stated that he is 4th generation Korean-Japanese.)
Yoshi appears @2:58 and 3:33.
Yoshi likes spending his time watching anime and dramas. He also likes to draw and paint.
Yoshi composes and is learning how to play the guitar. His family gifted him with an electric guitar to celebrate his coming-of-age.
He used to skateboard a lot when he was younger.
According to Junghwan, Yoshi likes to read books about psychology.
The first concert he attended was BIGBANG's when one of his older sisters took him. The sister closest to Yoshi in age has a Korean name which starts with a "J."
The first album he purchased as a child with his own pocket money was G-Dragon's "Heartbreaker," which he purchased on a visit to South Korea.
During 2019, his roommate was former YG rap trainee Ha Yoonbin. He currently shares a dorm with Hyunsuk, Junkyu, and Yedam. I don't think this set up will work out because I personally think either Mashiho, Jaehyuk, or Asahi need to be placed with Yoshi to keep him in balance.
During the March 26, 2022 video fan sign Yoshi told a fan that his college major was one of the Visual Arts disciplines.
Yoshi thinks he's "lit."