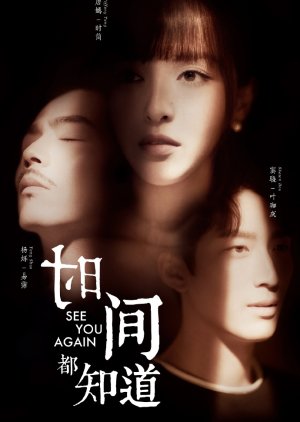 I. INTRODUCTION
See You Again ('Time Knows Everything') is a 2019 Chinese television series based on the novel of the same name by Sui Houzhu. It stars Tiffany Tang, Shawn Dou and Yang Shuo. It aired on Beijing TV from July 16 to August 7, 2019.
II. SYNOPSIS
An accident causes the 31-year-old Shi Jian to fall into a coma. In her dream, she returns to her university days, thus starting another story of meeting her future husband Ye Jia Cheng.
Shi Jian encounters Yi Pei, the owner of a trading business, on the way to visit her husband Ye Jia Cheng. The plane encounters heavy turbulence and causes Shi Jian to lose consciousness. In her dream, the 31-year-old Shi Jian travels back ten years ago to the time when she was still a university student.
After the initial adjustment, Shi Jian decides to start early treatment for her mother's illness. She is also determined to move up the timeline for when she is due to meet her future husband Ye Jia Cheng. Shi Jian witnesses Ye Jia Cheng's life before they met. Yi Pei also falls in love with Shi Jian in this timeline. Although she encounters many trials, Shi Jian finds that happiness is within her grasps after all, yet a tragic accident threatens to tear everything apart.
Can Shi Jian break the confines of time to live happily ever after?
III. TRAILER
Content embedded from external sources will not be displayed without your consent.
Through the activation of external content, you agree that personal data may be transferred to third party platforms. We have provided more information on this in our privacy policy.
IV. RATINGS
| | | | |
| --- | --- | --- | --- |
| 2019.7.16 | 0.766 | 2.99 | 6 |
| 2019.7.17 | 0.549 | 2.17 | 5 |
| 2019.7.18 | 0.646 | 2.55 | 5 |
| 2019.7.19 | 0.601 | 2.38 | 5 |
| 2019.7.20 | 0.779 | 3.1 | 4 |
| 2019.7.21 | 0.677 | 2.6 | 4 |
| 2019.7.22 | 0.902 | 3.4 | 4 |
| 2019.7.23 | 0.895 | 3.45 | 4 |
| 2019.7.24 | 1.09 | 4.07 | 4 |
| 2019.7.25 | 0.95 | 3.67 | 4 |
| 2019.7.26 | 0.866 | 3.43 | 3 |
| 2019.7.27 | 1.017 | 4.08 | 3 |
| 2019.7.28 | 1.058 | 4.04 | 3 |
| 2019.7.29 | 1.025 | 3.9 | 4 |
| 2019.7.30 | 1.133 | 4.34 | 4 |
| 2019.7.31 | 1.11 | 4.18 | 5 |
| 2019.8.1 | 1.015 | 4.03 | 2 |
| 2019.8.2 | 0.922 | 3.71 | 2 |
| 2019.8.3 | 0.846 | 3.32 | 2 |
| 2019.8.4 | 0.929 | 3.58 | 4 |
| 2019.8.5 | 0.797 | 3.16 | 5 |
| 2019.8.6 | 0.792 | 3.08 | 5 |
| 2019.8.7 | 0.57 | 2.29 | 5 |
V. AWARDS AND NOMINATIONS
Golden Bud - The Fourth Network Film And Television Festival
Best Actor
Shawn Dou

Nominated


Best Actress
Tiffany Tang

Nominated