I.
Introduction
Lee Dong-hyuck (Hangul: 이동혁), known professionally as Haechan (Hangul: 해찬) , is a Korean singer and dancer. He is one of the main vocalists in two permanent NCT sub units, NCT 127 and NCT Dream. Both groups sing primarily in Korean, as well as songs in English, Chinese and Japanese.
II.
2014-16: SM Rookies
Donghyuck was introduced as an SM Rookie on July 7, 2014. He began appearing with other members of the pre-debut SM Rookies team in live performances and variety shows, including appearing on "The Mickey Mouse Club."
Donghyuck appeared in the ongoing NCT reality show, NCT Life. In April-May 2016, he appeared in NCT Life in Bangkok, focusing on the members of SM Rookies and their journey to debut. As part of the show, he prepared for shows and appearances in Thailand with other members, including Jaehyun, Hansol, Johnny, Taeyong, Yuta, Doyoung, Ten, Taeil, Jeno, Mark, Jaemin and Jisung.
On June 30, 2016, it was announced that NCT would debut its first permanent sub-unit, NCT 127. He debuted with a new stage name, Haechan, with NCT 127 on the EP NCT #127 on July 10, 2016 as one of the main vocalists, lead dancers and the maknae. Haechan has one of the most distinctive voices in NCT, even as age has warmed and softened some of its textures. It is powerful and unique. It's Haechan's high sharp tones that builds into the chorus on "Fire Truck."
In July-August 2016, he appeared in the third season, NCT Life in Paju, with the other 127 members planning and enjoying games and activities in Paju. Because he and fellow member Mark were still minors, adjustments were often made and mentioned in shows to accommodate them.
Haechan joined the third NCT sub-unit, NCT Dream, which consisted of former SM Rookies Renjun, Jeno, Mark, Jaemin, Chenle and Jisung. Dream debuted on August 24, 2016 with "Chewing Gum." Dream was designed as a teenage boy group, with members graduating from the group once they reached adulthood (20 in Korean, 19 international age.) Haechan is one of the main vocalists and lead dancers in Dream.
Dream has a brighter, sunnier pop sound than the other sub-units, although it has an equal emphasis on powerful and intricate dance choreography.
127 released its second EP Limitless on January 4, 2017.
Dream released its first single album The First on February 9, 2017, featuring the previously released "Chewing Gum" as well as two new songs. In the same month, Dream were also appointed as official ambassadors for the 2017 FIFA Under 20 World Cup and performed a special song tied into the event.
127 released its third EP Cherry Bomb on June 14, 2017. It made its first appearances in live shows in the U.S. throughout the summer.
Dream released its first EP, We Young, on August 17, 2017.
IV.
2018 Empathy and first album
Haechan participated with NCT during the NCT 2018 project on March 14, 2018, featuring all NCT members, and debuting three new ones. This project also included the first NCT full album, NCT 2018 Empathy. He appears as a singer on the 127 song "Touch," the Dream song "Go" and as a dancer in "Black on Black." Haechan's voice lifts the bridge in "Go."
127 released its first Japanese EP Chain on May 23, 2018.
On August 27, it was announced that the upcoming Dream EP, We Go Up, would be Mark's last, as he was graduating from Dream due to his age. This reduced Dream to 6 members. The EP launched on September 3, 2018. Again, Haechan leads the bridge and on "We Go Up."
127 released its first full album Regular-Irregular on October 12, 2018, featuring a popular English version of its lead single, "Regular," that was utilized during the group's United States' based performances. The group also released a repackage Regulate on November 13, featuring the single "Simon Says." Haechan leads on the bridge of "Simon Says."
With his outgoing personality, he became a popular guest on variety shows, however on December 19, Haechan was forced to take a hiatus due to injury.
V.
2019: First World Tour
In January 2019, 127 began its first concert tour, Neo City - The Origin, with worldwide stops until May. Haechan rejoined the tour in March in Japan.
The group also released its first full-length Japanese album, Awaken. The group then increased its publicity in the United States ahead of the release of its fourth EP, We Are Superhuman, including appearing at the Macy's Thanksgiving Day parade. This EP also featured an English version song and accompanying video filmed in California. On October 24, 2019, 127 released a live album based on the Neo City concert tour. Some of NCT's most recognizable bridges are on this album, including Haechan's Michael-Jackson-inflected "Superhuman" and the "oh she's so bad" of "Highway to Heaven."
Dream became the first global ambassadors of the World Scout Foundation, then released a new EP, We Boom, in July. Dream began its first tour in November 2019 until the COVID-19 pandemic halted its touring schedule in 2020.
In addition to his activities with 127 and Dream, Haechan continued to appear as a guest on variety shows, including the ninth season, NCT Life: Chuncheon and Hongcheon, with 127 members touring parts of South Korea. He also made his debut singing for NCT U on "Coming Home."
Dream released a Japanese-exclusive repackage The Dream, while 127 released its second full album, Neo Zone, on March 6, 2020, as well as a repackage Neo Zone: The Final Round on May 19.
Haechan participated in the NCT 2020 project in October 2020, featuring all NCT members, and debuting two new ones. This project also included a 2-part NCT full album, NCT 2020 Resonance Pt. 1 and NCT 2020 Resonance Pt. 2. He appears as a singer on 127's song "Music, Dance" and Dream's "Deja Vu" as well as a part of NCT U combination units on 3 songs: "90s Love," "From Home" and "Faded in My Last Song." He also returned to Dream for their single on the album "Deja Vu." He also features in the combination single "Resonance," which combines multiple songs, with his memorable intro. The entire project also appeared on NCT World 2.0, a competition-focused show.
VII. 2021: Loveholic and first Dream album
27 released its second Japanese release, Loveholic in February 2021. Again, Haechan delivers a unique and memorable pre-chorus.
Dream announced it would release its first full album, Hot Sauce, in May 2021.
VIII.
Discography:
Covers as a performer (released in digital/social media):
2019 - Cintar Luar Biasa (Andmesh Kamaleng) with Doyoung
2019 - "첫 눈 (EXO) / Mistletoe (Justin Bieber)
- with Haechan
IX.
Filmography
X.
Social Media:
He does not have an IG.
His NCT emoji is a ☀️ (sun).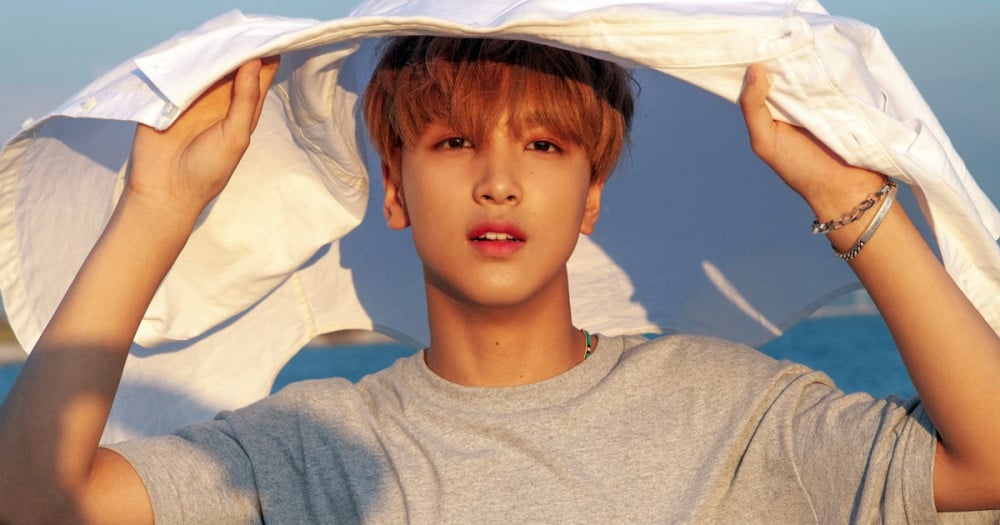 XI.
Trivia
- Haechan or Lee Donghyuck was born in Seoul on 06/06/00. He then moved to Jeju and lived there from the age of 7 to 12. He has a younger sister and two younger brothers.
- He auditioned for SM through the famous Saturday audition, which is an open audition. Most idols are cast through scouts and the open audition is famously difficult. He is one of only 8 idols in SM passed it.
- Haechan is boisterous and affectionate - he is the mood maker and the mischief maker.
- His stage name Haechan means full sun so one of his nicknames are full sun. Hae means sun and chan means full.
- Haechan has color amblyphobia.
- He plays Overwatch a lot.
- He is a big Michael Jackson and Taemin fan.
- His favorite food is Samgyeopsal.
- He named his fans Sunflowers.
- He also often interacts with his fellow member, the high-energy Haechan, who is known for his sunshine personality and stage name of Full Sun (Haechan), and are known as "Sun and Moon." They even hosted a mini talk show for the launch of Resonance.