I.
Introduction
Jang Na-ra (Korean: 장나라; born March 18, 1981) is a South Korean singer, and actress active in both the South Korean and Chinese entertainment industries since 2001. She rose to prominence with her hit studio album Sweet Dream in 2002, and starred in well-received television series Successful Story of a Bright Girl (2002), My Love Patzzi (2002), Wedding (2005), My Bratty Princess (2005), Confession Couple (2017), The Last Empress (2018–2019), and VIP (2019).
II.
Career
Jang spent most of her childhood in her birthplace, Yeokchon-dong, Eunpyeong District in Seoul, South Korea. She appeared with her father, Ju Ho-seong who is also an actor, in the play Les Misérables in her primary school days, thus sparking her interest to become an actress. Jang also went on to become a model for television advertisements in her high school days before entering Chung-ang University's Department of Theater, Faculty of Fine Arts where she majored in Theater and Film in March 2000. She graduated 10 years later, on February 19, 2010. The delay was due to her continuous work since her debut after she entered the university. She also received an alumni association award for her contributions to the university during the graduation rites.
III.
Music Career
Content embedded from external sources will not be displayed without your consent.

Through the activation of external content, you agree that personal data may be transferred to third party platforms. We have provided more information on this in our privacy policy.
Jang made her debut in the entertainment world as a singer in May 2001. She started her singing career by becoming a trainee and signing a contract with SM Entertainment. However, SM Entertainment dropped her due to assumptions that she would have lesser or no popularity than the other competing artists.
Jang released her debut album First Story with the title track Burying My Face In Tears. Initially, it was not well received and only reached number 12 in Korean music charts. After starring in the popular sitcom New Nonstop, she became more well known and released the other tracks in the album such as her pop ballad style song, Confession and the April Story, ranked at the top in various music charts. The album sold 300,000 copies. Jang then became a host for MBC's music show, Music Camp and KBS's talk show Love Story. By the end of 2001, she received several New Female Artist awards from year-end Music Awards ceremonies and New MC awards from Entertainment Awards ceremonies.
Content embedded from external sources will not be displayed without your consent.
Through the activation of external content, you agree that personal data may be transferred to third party platforms. We have provided more information on this in our privacy policy.
In October 2002, Jang released her second album Jjang Nara Vol.2 Sweet Dream. The song Sweet Dream became immensely popular and reached number 1 in Korean music charts, instantly making Jang a household name. The album also became one of the top selling albums of that year in South Korea. Due to the success of Sweet Dream, Jang won several awards including two Daesang awards or the Grand Prize (equivalent to Korean Top Artist of the Year) from MBC Music Festival and KBS Music Awards. She also received the Korean Singer of the Year from China's CCTV-MTV Awards in 2003.
In December 2003, Jang released her third album aptly titled 3rd Story which included top tracks I am a Woman Too and Is That True?.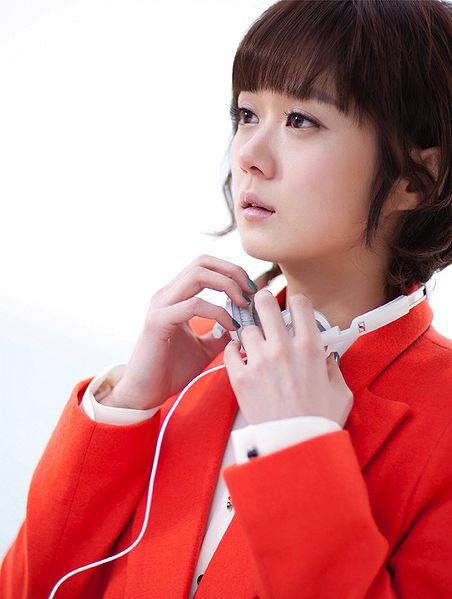 Jang released a Best Hits Album in 2004 consisting of songs from her 3 previous albums. She followed it up with her 4th album titled My Story released in December 2004, consisting of hit songs such as I Love School and Winter Diary.
With her popularity in China, she also made a career in music overseas by releasing Chinese-language albums. Her first Chinese album was a huge success, making her the first foreign artist in China with over 1 million copies sold.This was followed by the release of two more Chinese albums, Kungfu (2005) and Flying High (2006).
She returned to the Korean music scene in 2007 with her fifth Korean album entitled She, which consists of medium tempo Masquerade and the dance piece You & I. The following year, she released a multi-lingual album titled Dream of Asia, which includes 26 songs in 5 languages, including Mandarin, Cantonese, Korean, Japanese and English. Jang held a mini concert in Beijing to promote the album. During the 2008 Beijing Summer Olympics, Jang was the only singer from a non-Chinese-speaking country to appear in the 2008 Olympic song Beijing Welcomes You.
In 2009, she released a duet with Jimmy Lin for the soundtrack of their film Flying With You. The track was produced by famed Singaporean musician JJ Lin. In 2012, four years after releasing Dream of Asia, Jang returned to the Korean music scene with the digital single I Only Think Of You. The same year, she released her fourth Chinese album Love Journey.
On May 20, 2018, Jang Na-Ra performed Sweet Dream, I am a Woman Too, April Story on Sugar Man season 2, which was the highest audience rating among all terrestrial and non-terrestrial programs broadcast at the same time. Sweet Dream by Jang Nara became the most-viewed performing video among all Sugar Man singers.
IIII.
Acting Career
Jang also has a successful acting career. She first appeared in the popular MBC TV sitcom New Nonstop, and received attention for her cute image. In 2002, Jang landed her first leading role in a drama in SBS's romantic comedy Successful Story of a Bright Girl. The drama is well received and recorded high audience ratings. She won the Best New TV Actress Award at the 2003 Baeksang Arts Awards. The success of the drama and her hit song "Sweet Dream" launched her to stardom in South Korea that year. The same year, she starred in another romantic comedy series My Love Patzzi which also attained high ratings.
In 2003, she made her feature film debut in the film Oh! Happy Day.
In 2004, she came back to the small screen and starred in MBC's weekend drama Love Is All Around, followed by KBS' romance drama Wedding. Wedding established Jang as an actress, and she received viewer acclaim for her portrayal of a woman's growth and identity in marriage.
In 2005, with her increasing popularity in China, she made a bold move by moving to China to start her singing and acting career. Her first mainstream Chinese drama is My Bratty Princess. The success of My Bratty Princess catapulted her as a hallyu or Korean Wave star in China. She made several other drama series in China which includes Good Morning Shanghai in 2007, Iron Masked Singer in 2010, and Unruly Qiao in 2011.
In 2009, she returned to the big screen with Sky and Ocean, playing a gifted violinist with a mental age of 6 years old, diagnosed with Savant syndrome. The movie was a commercial failure, and was criticized for Jang's unfair nomination at the Grand Bell Awards even before the movie was released. However, despite the controversy, Jang won the Best Actress for a Foreign Film Award at the 19th China Golden Rooster and Hundred Flowers Awards. The film also became the first Asian film to be invited to the 8th Tirana International Film Festival in Albania, where it won the Media Award.
In May 2011, Jang starred in KBS romantic-comedy Baby Faced Beauty. This marks her return to Korean screens after six years. The series averaged 10% ratings throughout its run and won favorable reviews. She later won the Excellence Award for an Actress in a mini-series at the 2011 KBS Drama Awards.
The following year, she filmed her first Chinese movie Flying With You, starring opposite Taiwanese singer and actor Jimmy Lin. She also made a cameo appearance in another Chinese film starring Jaycee Chan titled Whoever. The same year, she appeared together with her father in a Chinese drama entitled Race Course. In December 2012, Jang reunited with her Baby Faced Beauty co-star Choi Daniel for KBS's teen drama School 2013. She received her second consecutive Excellence Award for an Actress in a mini-series at the 2012 KBS Drama Awards.
After filming for School 2013 concluded, Jang immediately returned to China to film a drama titled Red Palanquin.
The year 2014 proved to be a busy year for Jang with three TV projects under MBC network. In July 2014, Jang played the lead role in You Are My Destiny, the Korean adaptation of the 2008 Taiwanese hit drama Fated to Love You. This TV series reunited her with Jang Hyuk 12 years after both starred in the highly rated drama Successful Story of a Bright Girl. You Are My Destiny was a hit in China and gained 200 million views. Shortly after, Jang starred in a one-episode drama special entitled Old Farewell for MBC's Drama Festival, pairing her once again with Jang Hyuk. She then took on the lead role opposite Shin Ha-kyun in the fantasy-romantic-comedy drama Mr. Back. She later won the Top Excellence Award at the 2014 MBC Drama Awards for both television series she starred in that year.
In 2015, Jang played a police detective in the mystery thriller Hello Monster. In 2016, she starred in the romantic comedy One More Happy Ending, portraying a former pop idol.
In 2017, Jang was cast in the romantic fantasy drama Confession Couple. The series was a success, and won acclaim from viewers. She also won the Excellence Award for an Actress in a mini-series at the 2017 KBS Drama Awards.
In 2018, Jang was cast in the mystery thriller drama The Last Empress, playing a musical actress who becomes the Empress of a modern-day monarch. The series received high ratings and Jang was praised for her performance with her wide range in acting.
In 2019, Jang returned to the small screen with the office mystery drama VIP.
In 2020, Jang starred in the romance comedy drama Oh My Baby as manager of a magazine The Baby, opposite Go Jun.
In 2021, she will appear in occult TV series Great Real Estate as Hong Ji-ah, the president of a great real estate and an exorcist to be aired on KBS2 in April.
III.
Discography
IIII.
Korean Discography
IIIII.
Albums
[2001.06.18] First Story
[2002.10.02] Sweet Dream
[2003.12.01] 3rd Story
[2004.12.16] Naui Iyagi (나의 이야기; My Story)
[2007.02.23] SHE
[2008.03.25] Dream of Asia
IIIIII.
Other Albums
[2003.04.18] Jang Nara wa Chingudeul (Yeonghwa Oh! Happy Day Sabipgok) (장나라와 친구들(영화 오! 해피데이 삽입곡); Jang Nara and Friends (Oh! Happy Day Movie Soundtrack)) (Soundtrack Album)
[2004.05.03] History - My Love (Best Album)
[2004.09.14] Olchaengiwa Gaeguri & Somsatang (올챙이와 개구리 & 솜사탕; Tadpoles and Frogs & Cotton Candy) (Children Album)
[2004.09.14] Hello ABC Song!! (헬로우) (Children Album)
[2009.05.07] Sky And Ocean OST (하늘과 바다) (Soundtrack Album)
IIIIIII.
Digital Singles
[2007.01.03] Lady Like
[2007.06.13] Munggegureum (뭉게구름)
[2008.02.14] Jang Naraui It's Alright - Queen of Ahyun (장나라의 - 아현동 마님)
[2008.08.22] If you ask me to
[2009.11.18] Figure Style (피겨스타일)
[2010.06.15] Dong Yi OST Part.1 (동이)
[2011.05.02] Baby Face Beauty OST Part.1 (동안미녀)
[2012.03.26] Neoman Saenggangna (너만 생각나)
IIIIIV.
DVDs
[2003.09.04] nara Jang Live - Live in Japan (nara짱 라이브)
[2005.10.20] Jang Nara & Jang Band Live (장나라 & 장뺀)
Compilations
[2003.11.24] Amazing Christmas (#5 Jingle Bells)
[2004.07.xx] Love Is All Around OST (#1 Immatchum Hanaro, #4 Naeanui Geudae)
[2007.12.18] Hong Gil Dong OST (#1 Over The Rainbow, #14 Gyeouren Saranghaseyo)
IIIII.
Chinese Discography
IIIIII.
Albums
[2005.01.20] Yī Zhāng (一张)
[2006.03.28] Gōngfu (功夫)
[2007.03.15] Follow Me! Mandarin Best Selection (Best Album)
IIIIIII.
DVDs
[2007.11.30] Jang Nara La Nuo Mo Ai Ni Yan Chang Hui (娜麼愛你演唱會)
IV.
Filmography
IVI.
Movies
[2003] Oh! Happy Day!
[2007] Girls Revolution (China)
[2008] Sky And Ocean
IVII.
Dramas
[2001] New Nonstop
[2002] Successful Story of A Bright Girl
[2002] My Love Patzzi
[2003] Hello Balbari
[2004] Love Is All Around
[2005] Dou Kou Nian Hua (China)
[2005] My Bratty Princess (China)
[2005] Wedding
[2005] Banjun Drama
[2007] Good Morning Shanghai (China)
[2010] Iron Masked Singer (China)
[2011] Diao Man Qiao Yu Yi (China)
[2011] Baby-faced Beauty