I.
Introduction
4minute (포미닛) was a Korean pop girl group formed by CUBE Entertainment. They became well know before their debut with Hyun A, a former Wonder Girls member that left the group due to an illness. They made their debut in 2009 with the digital single "Hot Issue". They made their Japanese debut on May 5, 2010 with the release of the Japanese version of "MUZIK" under Far Eastern Tribe Records, a sub-label of Universal Music Japan. They left the Japanese label on August 2013. It was announced on June 13, 2016 that the group would be disbanding.
II.
Career
Initially, 4Minute was known as " HyunA's Group" due to little information known about the group and HyunA was a former Wonder Girls member who would re-debut with 4minute. Hyun A and Ji Hyun were the first members announced to be in the 5 member group. On May 14, 2009 CUBE Entertainment released the official name of the group and slated their official debut for mid-June. In a statement, CUBE Entertainment defined the meaning of the name "4minute" stating that they "...will give off each of their charms while performing for that 4 minute long performance on the stage, captivating the hearts of fans." The teaser for "Hot Issue", their debut MV, was released on June 11, 2009. However, the teaser sparked controversy amongst netizens who claimed the teaser plagiarized an iPod advertisement.
CUBE Entertainment released concept photo's of 4minute on June 12, 2009; promoting the "Candy Funky Style". 4minute was criticized by Netizens who declared 4minute was similar to 2NE1 and After School. CUBE Entertainment assured netizens that 4minute was unique stating "Their Candy Funky Stye is different from After School, who does vivid colours and 2NE1 with the Hip Hop style. "Candy Funky" is currently very famous in Europe with the spirit of 'Let's go back to the 1980s'." Regardless, 4minute became the #1 searched phrase on Daum, and their popularity increased before their debut. On June 15, 2009 the music video for "Hot Issue" was officially released. 4minute debuted "Hot Issue" on June 18, 2009 on M! Countdown, then won the "Rookie of the Month" award from Cyworld with "Hot Issue" on July 1, 2009.
Sony Korea chose 4minute's un-released song "MUZIK" as their MP3 Player theme, which was played in the CM. Sequentially, "ShoeMarker", a shoe company, collaborated with 4minute who endorsed their product while 4minute was asked to represent the relaunch of Pucca, a South Korean character brand. "Hot Issue" continued to have immense popularity digitally. On August 3, 2009 4minute was awarded the "Rookie of the Month" award from Cyworld for "Hot Issue".
4minute acquired a Reality Show through MTV titled MTV 4minute. The show, which was a total of 20 episodes and 4 minutes long, first aired on August 10, 2009. 4minute completed promotions for "Hot Issue" and began preparing for their first mini-album.
III.
1st Mini-Album, Rise in Popularity
CUBE Entertainment slated the debut mini-album, titled For Muzik for an early August release. However, the mini-album was postponed until August 31, 2009. For Muzik was leaked on August 28, 2009 from Venezuela via Youtube. Due to the leak, CUBE Entertainment released the mini-album digitally online, and For Muzik entered the charts. 4minute planned to promote For Muzik with "MUZIK" and "Anjullae". Yet, "Anjullae" suffered a ban from Music Bank, deeming the lyrics inappropriate. However, 4minute experience explosive sales with For Muzik; the mini album hit the 20,000 mark in pre-orders.
The MV for "MUZIK" was released on September 3, 2009. 4minute debuted "MUZIK" on September 5, 2009 at Music Bank, and the group went on to win two Mutizen's at Inkigayo on September 27, 2009 and their second #1 award on M! Countdown. 4minute ended "MUZIK" promotions and it was announced that the group would use "What A Girl Wants" as their second single. The debut performance was at Music Core on October 24, 2009 and the music video was released on October 28, 2009. The group went on to win the "Yepp Newcomer Award" along with T-ara at the 2009 Golden Disk Awards.
IIII.
Overseas Activities, 2nd Mini-Album and 1st Japanese album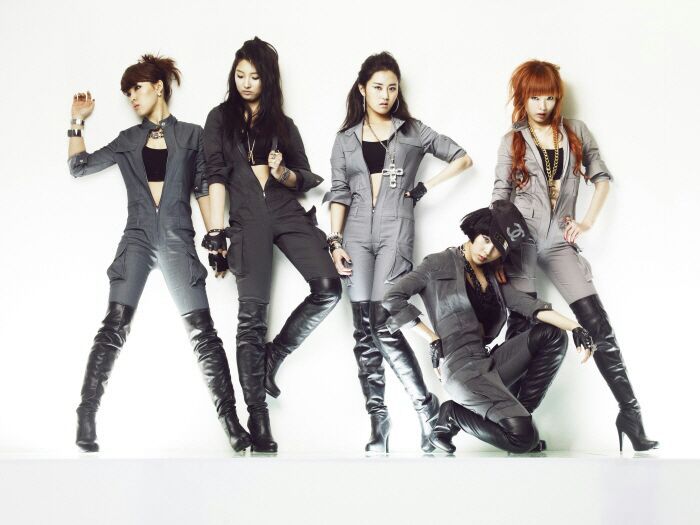 CUBE Entertainment announced their plans to expand 4minute into other Asian countries due to immense popularity. The group was invited to the "Korea China Music Festival" where they made their debut appearance in China on November 25, 2009 in Shanghai; they performed "Hot Issue" and "MUZIK". On November 30, 2009 it was announced that Hyun A and Ji Yoon would make their solo debut's, however it was not decided which member would debut first. 4minute went on to be featured in fellow label-mate Mario's Christmas digital single "Jingle Jingle", which was released on December 2, 2009; the music video premiered online on December 3rd.
Hyun A made her debut with the digital single "Change" on 4th January. The music video was deemed inappropriate for minors and given a 19+ rating because of the dancing Hyun A does in the video. It was re-edited by CUBE Entertainment, this was given a 15+ rating nevertheless.
They released their debut Japanese single "MUZIK" on May 5th under Far Eastern Tribe Records. It debuted at #16 on the Oricon Charts, and in it's first week reached #21 with barely any promotion. All together, the single charted for 3 weeks and sold 6,154 copies.
Their 2nd mini album, Hit Your Heart was set to be released on May 19th, yet under mysterious circumstances, the album leaked on the 19th yet the album was available in stores on May 27th. The reason is still unknown. The lead single for Hit Your Heart was "Huh", and this reached #1 on Music Core.
Their second Japanese single "I My Me Mine" was released on 28th July and two months later, on 27th October, they released their third Japanese single "FIRST / DREAMS COME TRUE". Their first Japanese album, DIAMOND, is set to release on December 15th.
IIIII.
Japanese Activities and 1st Korean album
Their fourth Japanese single "WHY" was released on 9th March, and twenty days later, on 29th March they released their first Korean digital mini-album Heart to Heart. "WHY" became their biggest selling Japanese single to date. Their first Korean album, 4Minutes Left, was released on April 5th.
4Minute collaborated with Japanese singer Thelma Aoyama for her single, "Without U", which has both Japanese and English versions. Hyuna was featured in SS501's Heo Young-saeng's title track from his first solo mini album, Let It Go. On July 5, Hyun-a released a solo mini album, Bubble Pop! and the music video for the title track, Bubble Pop. Although the performances for Bubble Pop the song was concluded prematurely due to Korea Communications Commission review committee, the music video was a viral hit, gaining 10 million views on YouTube as of August 2011. On August 3, the music video Freestyle was released as an endorsement track for the video game company JCE.

Their fifth Japanese single "HEART TO HEART" was released on 7th September, with the title track being a Japanese version of the Korean of the same title. Their sixth Japanese single "READY GO" was released 7th December, it was their first single to feature an original Japanese song.
IIIV.
End of Japanese Activities and 5th Korean mini-album
On August 15, 4Minute posted the music video for the Japanese version "Heart to Heart". On September 7, the group released "Heart to Heart" as its fifth Japanese single, which ranked 15 on Oricon Daily Singles chart.The group also released its first DVD, Emerald of 4 Minute, which ranked second on the Oricon Daily DVD Chart. In October, the TV Tokyo drama "Welcome to the El-Palacio" featured 4Minute's newest song, "Ready Go", as its opener. On December 6, "Ready Go" was later released as the sixth Japanese single.
On April 9, 4Minute released the mini-album Volume Up along with the title track "Volume Up" and its music video. The single "Volume Up" reached number one on M! Countdown.
On August 22, 4Minute released its seventh Japanese single "Love Tension", which featured a Japanese version of "Volume Up". Hyun-a became famous for her role in the "Gangnam Style" music video around this time. On August 23, 2013, it was stated by the group's official Japanese website, that their contract with Universal Music Japan ended and their Japanese fanclub, 4NIA JAPAN, would be closed. On October 13, 4Minute performed at KCON 2012 at the Verizon Wireless Amphitheatre in Irvine, California. On December 4, 4Minute released the song "Welcome to The School" for the KBS TV series School 2013.
On January 20, 2014, Brave Brothers released the single "Only Gained Weight" which featured 4Minute members Hyuna, Gayoon and Sohyun; the song reached number five on the Melon chart and Gaon.
The group's fifth mini-album, 4Minute World, along with its featured track "Whatcha Doin' Today?", was released on March 17. The group promoted the song on various Korean music shows along with the track "Wait A Minute". The shows included KBS's Music Bank, MBC's Show! Music Core, SBS's Inkigayo and Mnet's M! Countdown from March 20–23. The single became the group's first single to debut at number 1 in Korea. On March 30, 4Minute won against 2NE1 and Girls' Generation on Inkigayo. And on April 3, they also won on M! Countdown which took place at Japan. On June 7, 4Minute performed "Whatcha Doin' Today" on Dream Concert along with other Kpop idols including their labelmates Beast, A Pink and BTOB. On October 17, during a performance at a local festival in Seongnam, south of Seoul in South Korea, at least 16 people were killed and 11 injured in an accident where a ventilation grate that people were standing on collapsed. On October 28, 4Minute was chosen as one of the 10 winners of "Style Icon Awards" for their trendy, stylish, and influential fashion, and also performed at the awards show.
IIV.
2016: Final mini-albums and disband
On January 26, 2015, Cube Entertainment revealed that 4Minute would pre-release a track from their next mini-album titled "Cold Rain", marking the first time the group has released a ballad as a single. On February 9, 4Minute released their sixth EP Crazy, along with the title track's music video. Their EP debuted at number 1 on Billboard's World Albums Chart. On April 4, 4Minute held a solo concert 4Minute Fan Bash in Myanmar, with around 7,000 fans in attendance.
On January 20, 2016, the group released their seventh and final mini-album Act. 7 with lead track "Silheo (Hate)". On June 13 of the same year, CUBE announced that 4minute would be disbanding and only HyunA had chosen to stay with the company.
III.
Discography
IIII.
Korean Discography
IIIII.
Albums
[2011.04.05] 4Minutes Left
IIIIII.
Mini-Albums
[2009.08.31] For Muzik
[2010.05.27] Hit Your Heart
[2012.04.09] Volume Up
[2013.04.26] Name Is 4minute
[2014.03.17] 4MINUTE WORLD
[2015.02.09] Crazy
[2016.02.01] Act. 7
IIIIIII.
Digital Mini-Albums
[2011.03.29] Heart to Heart
IIIIIV.
Digital Singles
[2009.06.15] Hot Issue
[2009.12.02] Jingle Jingle
[2010.04.13] Personal Taste OST Part.3 (개인의 취향)
[2010.07.19] Superstar
[2010.11.11] Jigudaepyo Rolling Stars OST (지구대표 롤링스타즈)
[2011.07.20] Fly So High (U-CUBE (BEAST, 4minute, G.NA))
[2011.08.03] Freestyle
[2012.08.30] Shinsadong Tiger Project Album Super Market (신사동호랭이 프로젝트앨범 슈퍼마켓)
[2012.12.04] School 2013 OST Part.1 (학교)
[2013.06.28] Mul Joha? (물좋아?; Is it Poppin'?)
[2013.12.03] Christmas Norae (크리스마스 노래; Christmas Song) (CUBE Artist (BEAST, 4minute, G.NA, A Pink, Huh Gak, BTOB, Roh Ji Hoon, Shin Ji Hoon & Kim Ki Ri))
[2014.01.19] Salmanjjigo (살만찌고)
[2015.01.26] Chuun Bi (추운 비; Cold Rain)
IIIIV.
Collaborations / Other
[2010.01.05] God of Study OST (#2 Dreams Come True)
[2010.02.18] Amerie - Heard 'Em All (#1 Heard 'Em All (feat. 4minute & BEAST))
[2010.05.14] Dasi Han Beon Daehanminguk (#2 Dasi Han Beon Daehanminguk (Brown Eyed Girls & 4Minute))
[2010.10.13] Fugitive: Plan B OST (#3 Chaos A.D)
[2010.12.23] It's Okay, Daddy's Girl OST Part.3 (#2 One Thing)
[2012.07.05] TEAM SIII - Win The Day (Modu Aesseuri)
[2013.01.28] School 2013 OST (#1 Welcome to The School #6 Welcome to The School (Inst.))
IIIII.
Japanese Discography
IIIIII.
Albums
[2010.12.15] DIAMOND
IIIIIII.
Best Albums
[2012.09.26] Best Of 4Minute
IIIIIIII.
Singles
[2010.05.05] Muzik
[2010.07.28] I My Me Mine
[2010.10.27] FIRST / DREAMS COME TRUE
[2011.03.09] WHY
[2011.09.07] HEART TO HEART
[2011.12.07] READY GO
[2012.08.22] Love Tension
IIIIIIV.
DVDs
[2011.09.07] EMERALD OF 4MINUTE
[2012.09.19] VOLUME UP ON / OFF SPECIAL DVD
IIIIIV.
Collaborations
[2011.05.06] Aoyama Thelma - LOVE STORY (#2 WITHOUT U (English Ver) feat. 4Minute)
[2011.05.25] Aoyama Thelma - WITHOUT U (#2 WITHOUT U feat. 4Minute)
IV.
Filmography
IVI.
Television
[2009.08.10 - 2009.09.04] MTV 4minute
[2010.06.26 - 2010.07.24] MTV 4minute's Friend Day
[2010.08.21 - 2010.08.28] 4minute's All In
[2011.01.19 - 2011.03.16] 4Minute's Mr. Teacher
IVII.
Commercials
[2009] Dasarang Chicken
[2009] Egg
[2009] Sony Walkman
[2010] Vegemil
[2010] Ariul Cosmetics
[2010] Shoe Marker
[2010] Scotch Puree (Thailand)
[2011] Online Game <Free Style>
[2012] Samsung Galaxy S III
[2012] Samsung La'Fleur
[2013] Talent Cosmetics
[2013] Nexon Sudden Attack